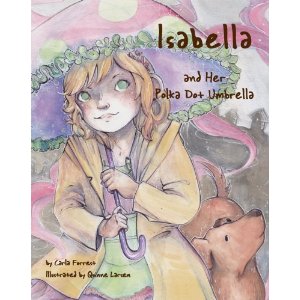 When I told the kids that I wanted to read them a new bedtime story last night, they were quick to finish up their homework and tidied up their mess before bedtime. I read 'Isabella and Her Polka Dot Umbrella' by Carla Forrest. There are 30 pages from front to back and is rich with illustrations – which was the first thing which caught their attention. The book is about a girl named Isabella, who could never seem to be too tired to go to bed at night. And then one fine day, she had a rainy adventure with her polka dot umbrella and her dog, Elvis.  I like how the author managed to keep her young readers interested throughout the book because the polka dot umbrella transformed into various things and Isabella and Elvis got to experience different kinds of adventures.
When we were through with the book, I asked the kids what the moral of the story was (which is my standard question after the end of each story I read to them). We concluded that they didn't need to be entertained by computer games / iPad / Nintendo (Aidan may beg to differ but he kept quiet anyway…) to tire them out. All they needed was some imagination to keep them entertained and occupied.
Personally, I find the story very original.  There were some new words that the kids took away  - words like galoshes and mosey.
When choosing a bedtime story to read earlier this evening, my kids asked if I had any new stories to read to them:) I think it's time to get some new books!
If you'd like to purchase 'Isabella and Her Polka Dot Umbrella' story book, click  here.
Disclosure: I have not received any compensation for writing this content and I have no material connection to the brands, topics and/or products that are mentioned herein.