..stands for Bring Your Own Bottle.
"Did you know, that plastics are made of precious pretroleum and it takes 400 years to fully biodegrade? And did you know that plastic bottle were created a little over than a century ago?  This means that every plastic bottles ever made  (apart from the few that were incinerated) still exists and are probably in landfills and oceans?"
- taken from the poster in BYOB – Subang Outlet.
Wanna know how a landfill looks like?
(Photo By D'Arcy Norman/Courtesy Flickr  and taken from this article. Not a pretty site right?
  At BYOB Green Concepts, you bring your own plastic bottles to get them refilled with detergents of all sorts. They also accept the extra plastic bottles that you have at your home so don't throw them away and contribute your trash to the landfills! Get them over to any of the BYOB outlets (check the list of outlet at their Facebook page.)
Sasha  is one of 3 partners who opened up a BYOB outlet at Subang. I have been saving up plastic bottles and  last weekend, I lugged all my plastic bottles with my 2 kids in tow to have them filled with detergents at BYOB at Subang.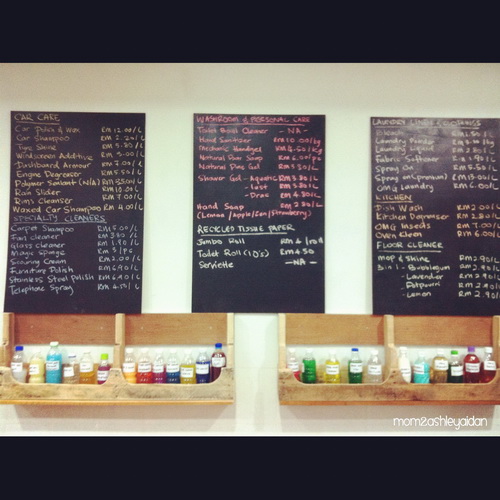 Detergents start as low as RM1.50/litre.
There are samples available so you can sniff and decide for yourself whether you like it or not.
Popcorn and soft drinks were served when we went to the Subang outlet  and as you can see here, Aidan was more interested in what was in the cooler box. He was playing with the ice cubes…
So I bought over 20 litres of
- Floor detergent
- Pine gel (to wash the bathrooms)
- Dish wash liquid
- Waxed car shampoo
- Car windshield additive
- Bleach
And I only paid RM45.10 for all these.
A good deal? You bet!
Plus, you do your part in saving the environment too.
No more paying ~RM15 for a 3 litre floor detergent at the supermarket because really, you're also paying for the cost of advertising, labels, shelf space and etc.
Find out more about BYOB Green Concepts today.
P/S I wasn't paid to post this.