I can't believe how blur I am…
Last night, while I took my shower, the kids played at Siti's room. When I was done, Aidan came up to the bedroom and laid down next to me. We both watched "Off The Map" briefly on my iPad and he fell asleep for the night.
This morning, I got the kids ready for school.
Before the kids left for school, Siti told me that the kids were playing with scissors in her room while she was bathing. She said Ashley cut a bit of her own hair. I didn't realize it in the morning when I tied her hair. I took a closer look at her hair and noticed that she cut off at least 6 inches off her hair! How blur am I to not have noticed that when I got her ready?
Then we looked at Aidan and realized that he had his hair cut too!! -  courtesy of Ashley!
See that???? How could I have missed it last night and this morning? This photo was taken just before he left for school this morning.
I was more upset than anyone else in the house. Before leaving for school, he said he looked like Mr Bean and that he liked it.
Later in the afternoon, I decided to bring him for a hair cut. We were both looking forward to it. We held hands and he skipped all the way to the salon. When I jokingly asked him if he wanted Mr Bean's hairstyle, he said, 'Yes."
At first, the hairdresser cut a shorter version of his normal hairstyle but we could still see the parts that were snipped off by Ashley.  In the end, the hairdresser suggested to use number 1 on the clippers to shave his head and I agreed right away.
The moment she shaved his head, I regretted it because Aidan's face changed and was quite upset with what was being done to his hair. And I felt so bad because I didn't consult him before shaving his head. After we were done at the salon, he was visibly sad. He didn't cry nor whine. He kept touching his head with his hand and said softly to me, "I don't want to cut my hair anymore."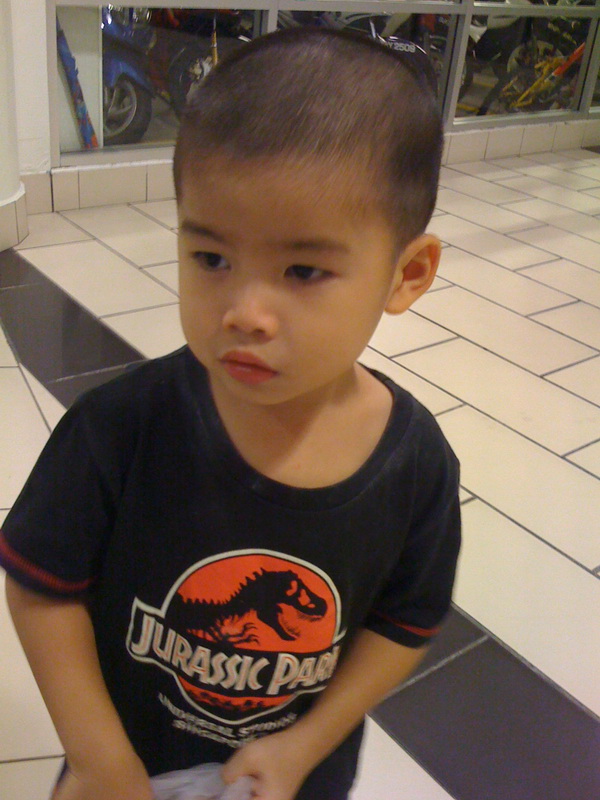 See? He looks so different!
Obviously I am more upset at how Aidan's hair turned out compared to Ashley. Ashley can still tuck the shorter parts of her hair behind her ear or she could use a hair band or a clip to mask the shorter hair. I warned Ashley that if she ever pick up a pair of scisssors to cut hair, I'd bring her to the barber to get her head shaved like Aidan!