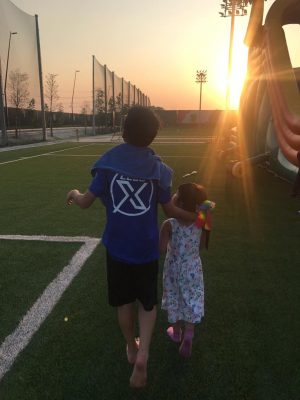 So much happened over the last 2 weeks! I've got lots to blog about but I shall start with this first.
Big Bro Aidan. What would we do without him?
When I see a giant inflatable air playground – I would usually cringe because –
AK would want to play in one. Well of course! She's 4 years old! I don't blame her.
If Ashley and Aidan are not around, it would usually mean that I would have to accompany her.
Last Sunday, hubby was playing football. Ashley was at a church convention. Thank God Aidan was around. Big bro made her day when he agreed to accompany her to the inflatable air playground. She was happy.
What a lucky girl to have such a patient and loving brother.
As for me? Well I managed to get away with it. hehehehe. It was huge and there.were.so.many.people in it – both kids AND adults.