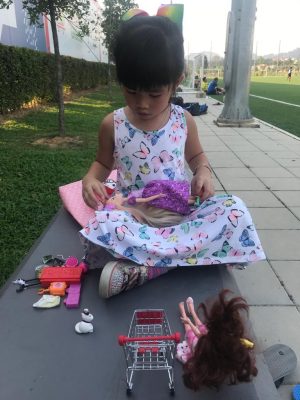 "Play is the highest form of research." – Albert Einstein
I love how AK loves to play with dolls and all because I know in a few years time, she will not want to play with her dolls anymore and I would start missing her childish ways.
Ashley is 14yo now and has long stopped playing with her Barbies and Monster High dolls. I miss those days. Now she is a teen, in her world of her own – she is growing up and mom needs to let go a little but you know how it is. It's challenging but I know that it's rewarding at the same time.
So while AK still wants to play with her Barbies, LOL dolls, Shopkins and what not, she's free to do so. In fact, she has a table full of toys and I actually love watching her play at her little corner of the house. I'll share the photo of it soon. It's pretty amazing!