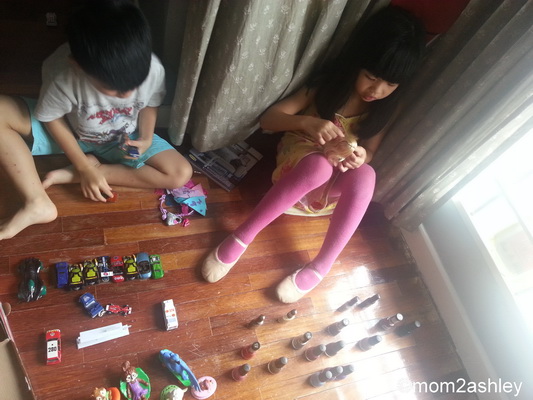 Photo taken on 19 Nov 2012
We are blessed to have a girl and a boy. It's interesting to see how different they are. While Aidan likes his  Ironman, Batman, Transformer toys and toy cars, Ashley on the other hand loves to play with her dolls and look through my collection of nail polishes.
As Ashley is bigger now (9yo), she doesn't mind playing with her own toys on her own. Her current favorite are the Monster High dolls.  Aidan, however, still wants someone to play with. He hardly settles on playing on his own unless he is playing a game on the iPad or Nintendo. Hence, in  order to be in the company of his sister, he usually ends up playing with Ashley's toys and watching Ashley's movies instead.
Sigh..
I digress…
I don't want him to end up leaning towards girls' stuff if you know what I mean so I always encourage him to play with his own toys even while playing with his sister so that there is a good balance in the type of toys that they play with or movies that they watch together.