It seems like yesterday Aidan first started going to nursery at Peter and Jane kindergarten.  Last weekend, we celebrated Aidan's K2 Graduation. Back in my days….graduation from the kindy was a simple affair which was held in the school hall. Last weekend though, the kindy organized a graduation party at the Kristal Ballroom at PJ Hilton! If you ask me, it's as grand as a wedding! The event was from 10:30am – 2:30pm.
Aidan was really happy to meet his friends one last time. He and his friends was inseparable!
See what I mean? I felt like we were attending a wedding dinner. In fact, this was even more interesting than a wedding dinner. No doubt that we had to pay through our noses but I must say that the school did a fantastic job overall!
The school got in Mike Cha Cha clown to entertain the kids.
Buffet was served. The food was really nothing to shout about and the thing I hate about buffets is the queue…that's just me 🙂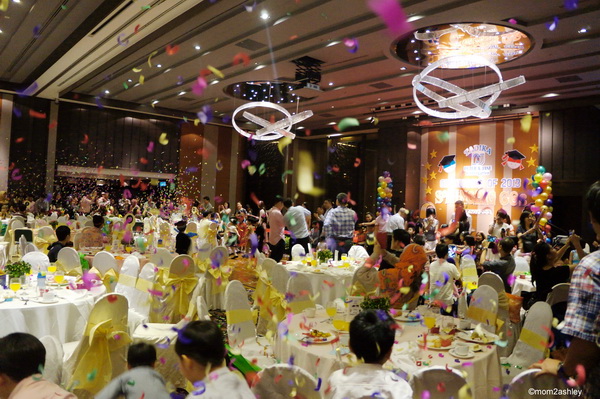 When the kids sang and performed, it was indeed a bitter sweet moment for me. Aidan spent 4 years in this kindy  (Ashley – 3 years) and I must give it to the teachers and the system for nurturing my kids to what they are today. Aidan and his bff couldn't let each other go. They kept hugging each other..anticipating that they will miss each other dearly as they will be in different schools next year.
After the graduation party, the kids knocked out at home. It was a memorable day.