Kyoto and Osaka was nice. If given the chance, I would like to go back there again because I realized that we missed out on a lot of interesting places to visit 🙁
We spent the rest of the week at Tokyo. On Day 6, we met up with my sister, her hubs and friends for lunch at Tsukiji Market.  Friends recommended us to witness the tuna auction at the market but that starts at 5am which meant that we had to wake up at 4am?!?! Thanks but no thanks. I know it's once-in-a-lifetime experience but we could not bring ourselves to wake up so early in the morning! If you are interested to witness the tuna auction, bear in mind that you will need to register at 5:00am for it as they only accept 120 visitors per day. You can find out more about it here.  So, we decided to be realistic and miss the tuna auction and have lunch there instead 🙂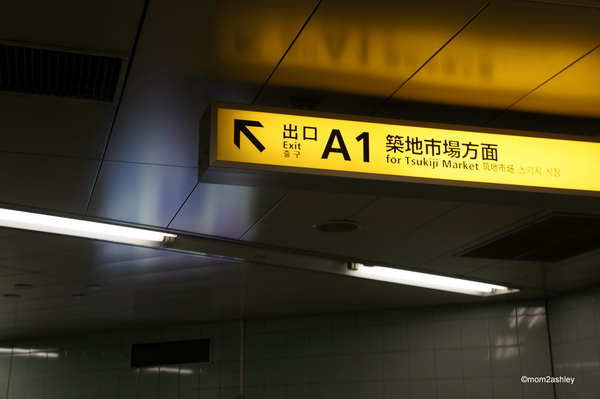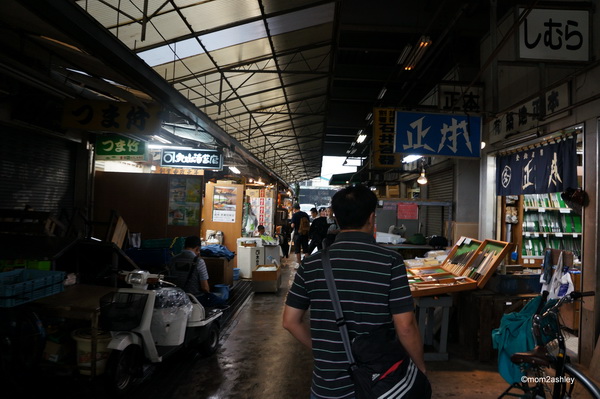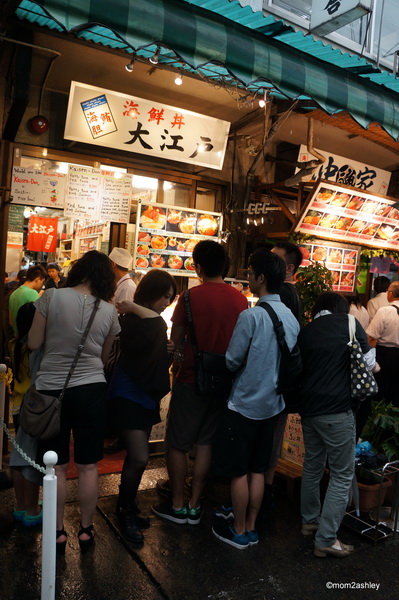 Despite the rain, there were many people queuing up outside the restaurants during lunch time.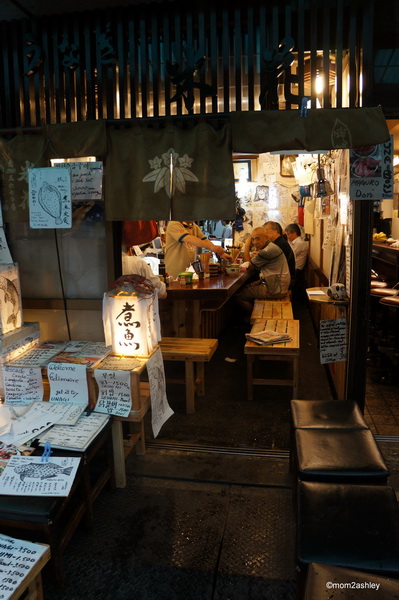 All the restaurants were small and cozy which could only seat about 10-15 pax. I like it that way. It gives that homey, authentic, cozy feeling to the  whole eating experience at the establishment.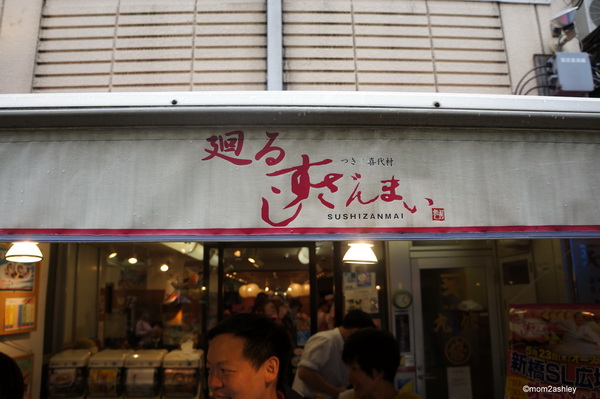 We ended up at Sushizanmai which is behind the building below.  Needless to say, lunch was incredible. I am not much of a sashimi lover but I must say that the sashimi was incredibly fresh and soft  – I swear it was like sinking my teeth into butter!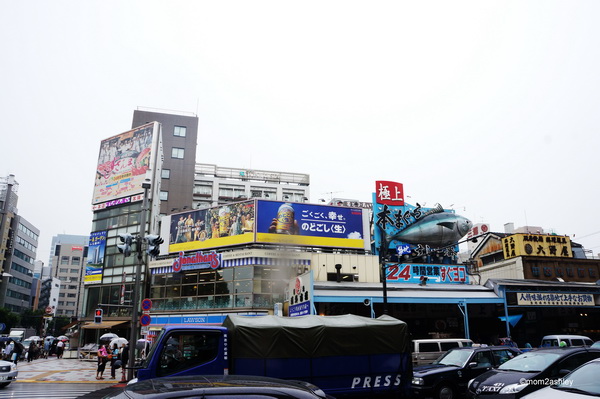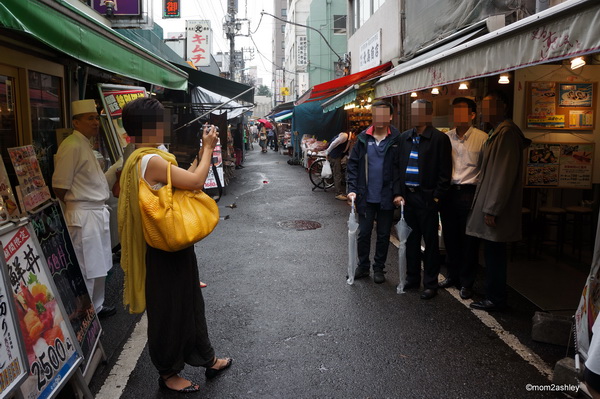 Just to give you a perspective of where the restaurant is located….it's in one of the narrow streets behind the building with the tuna on top. It's also in the vicinity of the Tsukiji Market.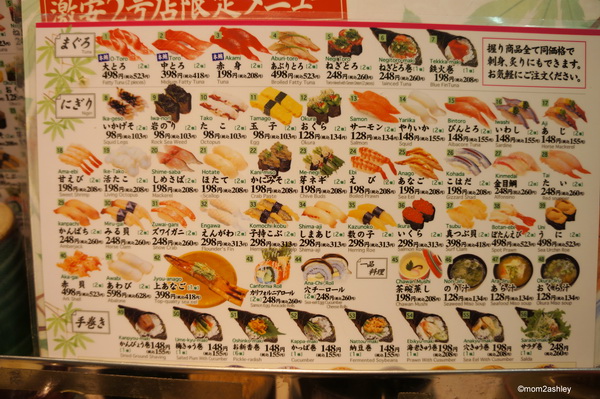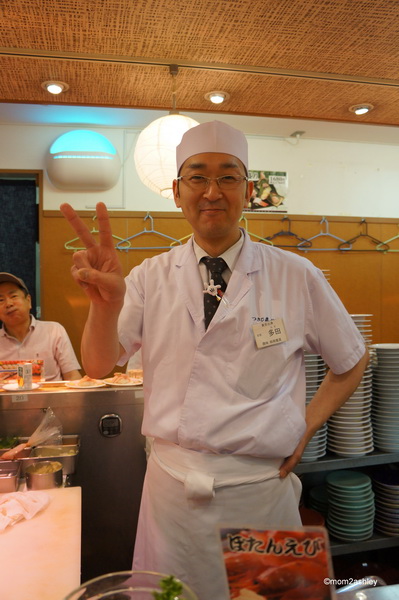 Our chef!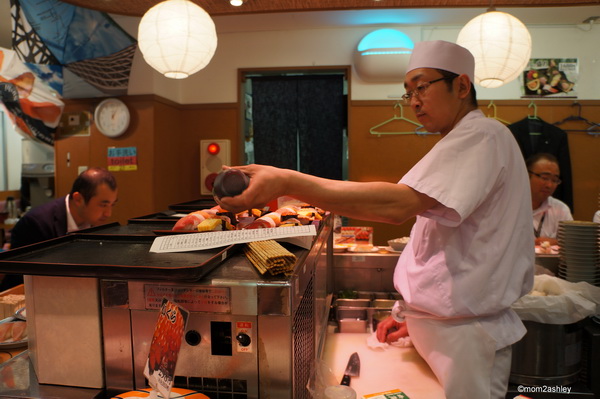 Check out the chopping board. It's super clean. And the cloth he used to wipe the knife and board was spanking white as well! Amazing I tell you.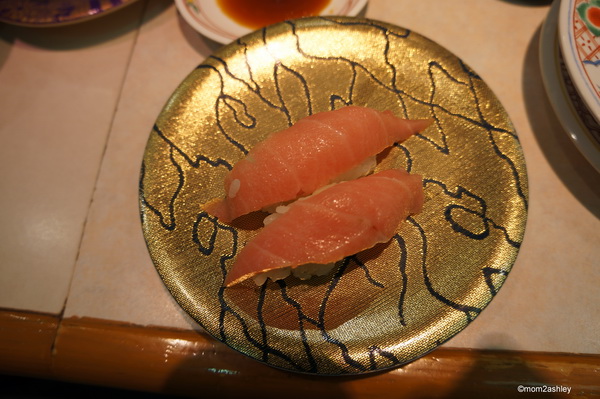 I'm not too fond of eating sashimi in Malaysia because they are not so fresh (in my opinion) and I've got this paranoia that I'd get a bad stomach bug after eating sashimi in Malaysia. I didn't have such paranoia in Japan though!
Isn't the plate gorgeous as well?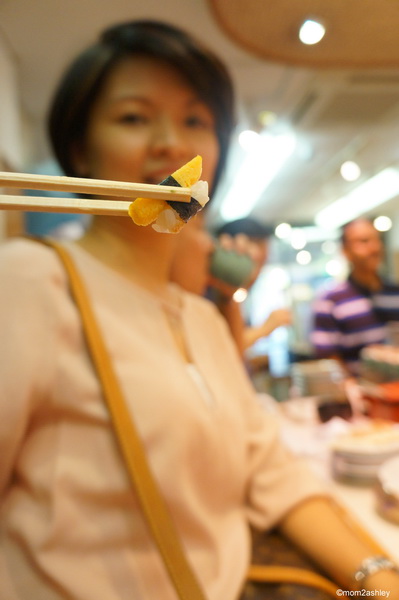 My sis claimed that the chef had taken a liking  to me because he specially made 2 miniature sushi for me 🙂 See how small that is? (maybe not so obvious from the picture)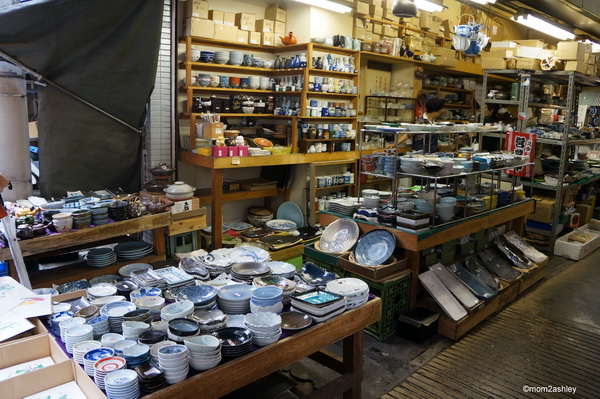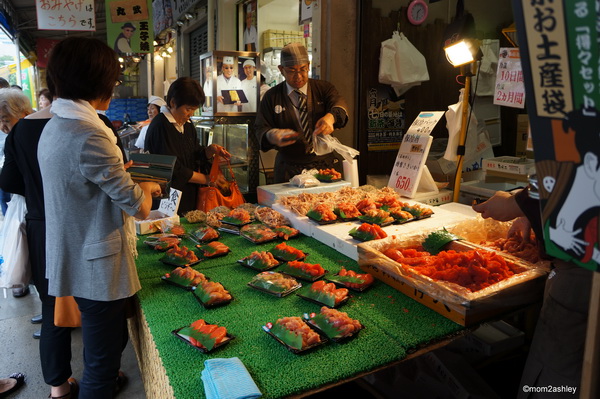 After walking around the market for a bit, we headed for some coffee at Le Cafe Doutor at Ginza.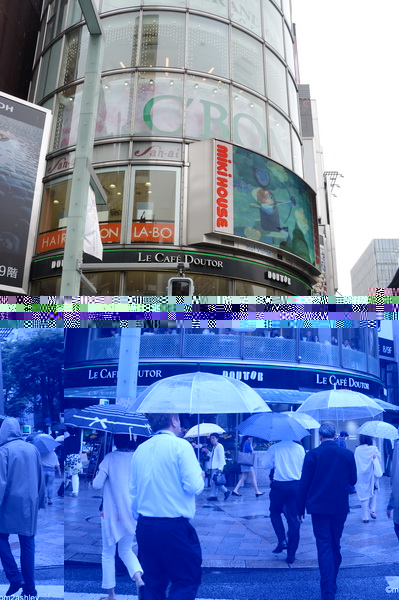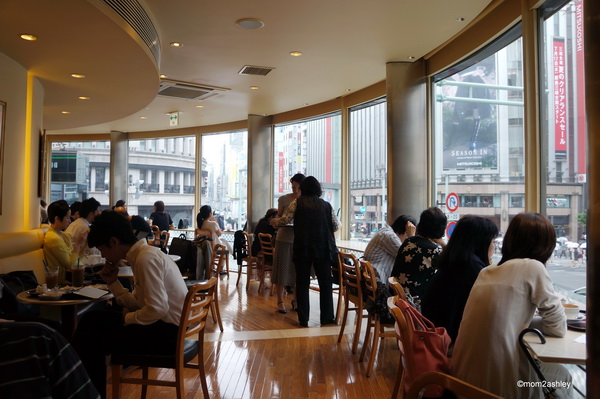 The cafe occupied 2 floors and what amazed me was how honest and trusting the Japanese people are. They'd place their personal belongings on the chair and leave the table unattended to place their order at the counter.  The vast contrast between Japan and Malaysia took me back.  It was such a refreshing change to be in a country where we didn't have to be afraid of bag snatchers, gun men and what not.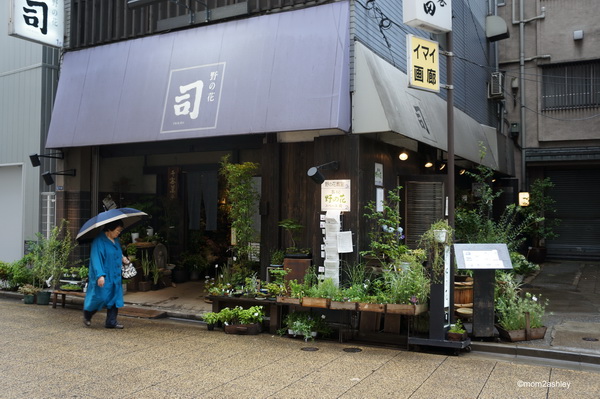 Quaint little flower shop just off Ginza St.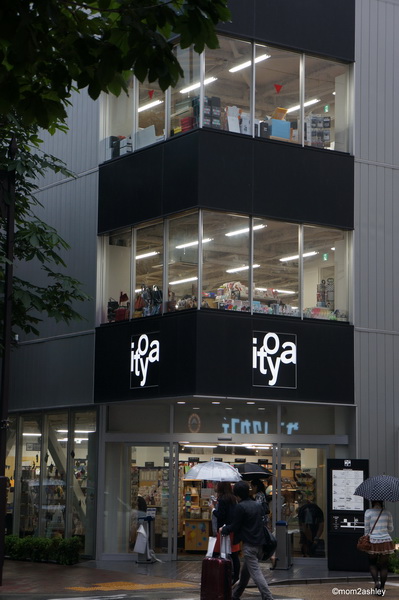 This multi storey store is like walking into a Japanese Typo shop. This is a must go if you like stationaries – handmade papers – both traditional and kawaii ones, origami supplies, office supplies and the works!
Ginza!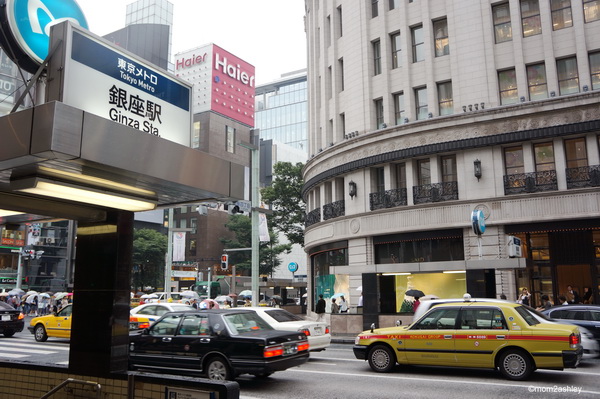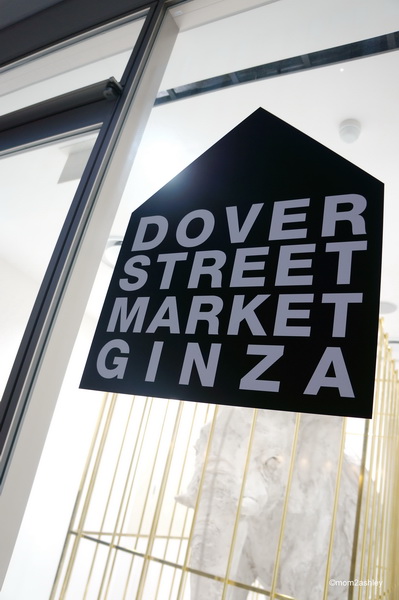 We also checked out Dover Street Market Ginza. It houses brands from high fashion, streetwear, men/womenswear and the whole COMME des GARCONS range under one roof – yeap! French name, Japanese fashion label. Interesting stuff they have there!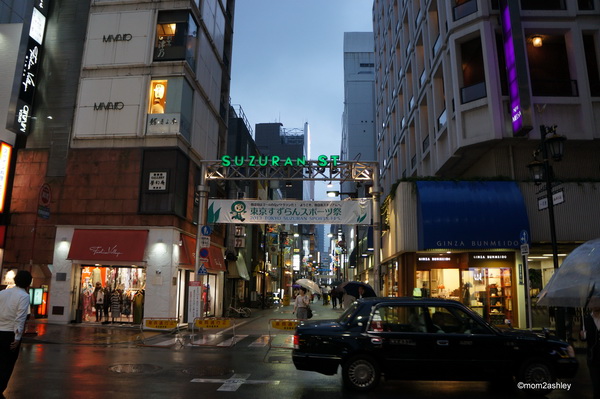 By evening, we were famished! We walked along Suzuran St and settled on some yummy tempura for dinner.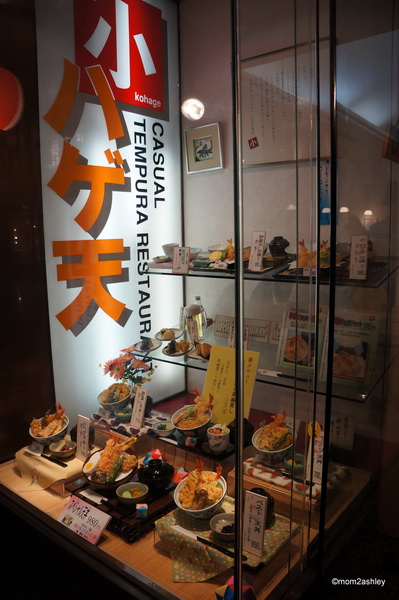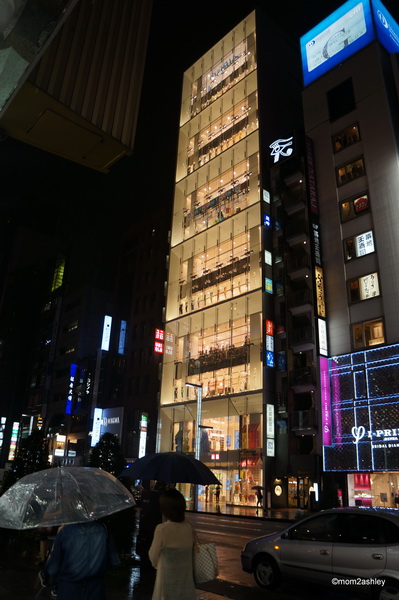 Next to COMME des GARCONS' Dovert Street Market is a 12-storey Uniqlo retail store. A must-go if you are in Tokyo! The prices are only slightly cheaper than Malaysia but there are stuff there which they don't sell at their stores here in Malaysia.
Although it was as wet day, it didn't deter us from walking around the city. The light showers were manageable – nothing we couldn't handle.
Love it there!