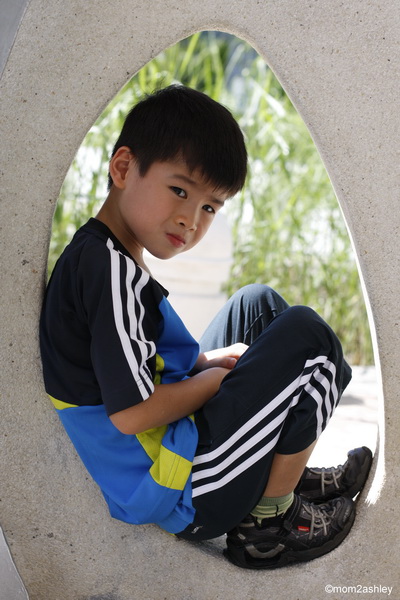 (Photo taken on 1 June 2013)
You know your kids have grown when the things they say or do reminds you of yourself.
After school on friday, Aidan said that his teacher instructed them to buy a paper clock from MPH bookstore. He described the clock and said that it should cost RM7. Each of the students needed it for their next Maths class. I popped by an MPH bookstore yesterday afternoon, searched high and low for it. I asked the sales assistant for help but nowhere in that MPH bookstore was there a paper clock! Knowing how Aidan will react, I took a deep breath and called Aidan.
Me : Aidan, Mommy is at a MPH bookstore but they don't sell the clock here.
Aidan : It it in a shape of a flower and has ladybugs on them.
Me : I know, but they don't sell it here.
Aidan : DID YOU ASK THE MAN??? (salesperson)
OMG! I realized he sounded just like me!
Me : Yes I did. You'd just have to tell your teacher tomorrow that we couldn't find it ok?
Aidan : (reluctantly) ooookayyy!
At the last minute, I group messaged his classmates' mommies and by that evening, one mommy managed to buy the clocks for some of us 🙂