We are no strangers to the method products. We've used the Method hand wash before I am such a sucker for nice packaging and to top it off, they are naturally derived, smells sooooo good, biodegradable and doesn't leave your skin as though all the moisture has been stripped from your skin.
 See? Nice right???? And what was so unexpected (to me anyways) is that when you press the pump, foam is dispensed as opposed to liquid.
Ok enough about the fabulous hand wash. Today, I'm going to talk about the Method laundry detergent.
Might I add that I never thought that I'd look forward to doing the laundry.  I was approached to do a review of the Method laundry detergent.  What attracted me to this laundry detergent was that it's natural, super concentrated (8x) and it's biodegradable – which means we get extra clean clothes (which smells soooooo sooooo good! Seriously)  without leaving  any of the harmful stuff that most detergents leave behind.  The bottle is also recycled AND recyclable . You can also buy refills too!
Besides being green, it's also easier to use. The bottle  fits one hand easily  so you don't have to lift a heavy bottle of laundry detergent each time you want to dispense some laundry detergent into the washing machine.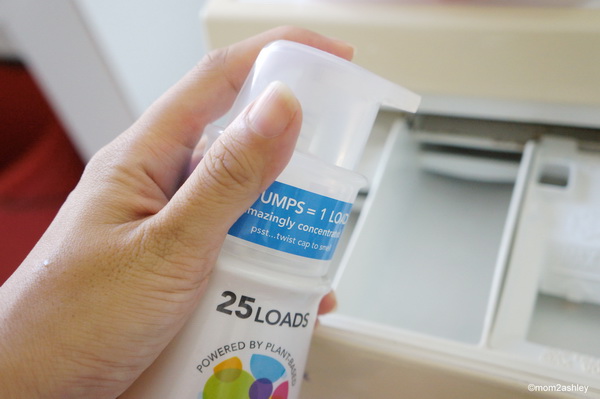 The Method Laundry detergent with smartclean technology® delivers cleaning power with just  1/4th the dose of leading brands.
Dosage : Method laundry detergent is suitable for both front and top loading machines. 4 pumps into the dispenser is all that is required!  However as top loading machines use more water, please add an additional pump for heavy loads (9kg and above)
When I told my helper to dispense 4 pumps into the machine, she had to ask me to repeat what I said because she didn't believe that all it took was 4 pumps for a full load wash in our machine.
I was very happy with the results. Hubs plays football 2-3 times a week and we have been going for hikes lately and let's just say that we have major laundry to do each week. The clothes are clean and on top of that, they smell so so good!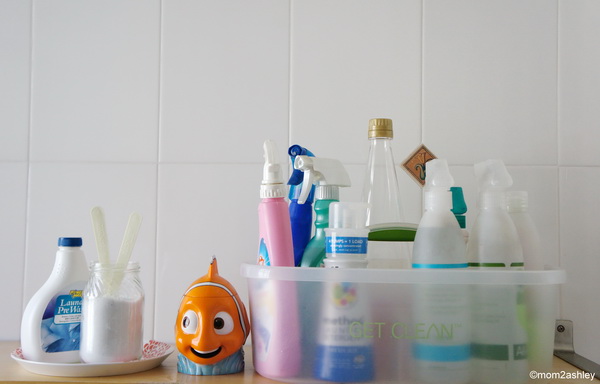 See how small the packaging is compared to the other stuff in my cleaning/laundry caddy? It's small but it sure is packed with alot of punch in it.
P/S Guess what's in Little Nemo?
Ok, so many of you will be wondering how much the method Laundry Detergent is.
Here's the price list.
300ml (25 loads) – RRP RM 28.00
600ml (50 loads) – RRP RM41.80
method products are available at Cols Storage, Tesco outlets (Ampang, Mutiara Damansara, Shah Alam, Puchong, Kajang, Tanjung Penang, Kelana Jaya), Carrefour (Mid Valley), Village gricer, Isetan (KLCC), Jaya Grocer, Hock Choon and Ace Hardware.
OK, Contest time!!!!
method  to the rescue! Contest
How to join?
1. Submit a short story  (by commenting in this blog post) of someone whom you think deserves a method product sent to them as a surprise gift. Tell us why your friend needs to be 'rescued' – does she have piles of extremely dirty laundry and children with sensitive skin? Does she want a cleaner that's as smart as she is? Does want a cleaner that good and works hard, just like she does? Is he sick of his house smelling like hospital cleaner? Does her kid like to lick stuff off the floors, thereby licking floor cleaners as well?
2. Check out www.facebook.com/methodmalaysia to learn about method's household and personal care products you would like your friend to have.
3. Readers can submit as many stories as they like about different friends.
4. I will select 5 lucky winners of the method to the rescue! Contest. 5 different readers who wrote the winning short stories will be sent a selection of method household and personal care items worth over RM80!!
5. Your friend, the stars of the stories will each be sent the full-sized method product as described in the short story.
6. This contest is open  to resident of Malaysia only
7. The contest starts today, 28 Nov 2012, 11:00am (GMT+8) and will end on 5 Dec 2012 11:00am (GMT+8).
8. Winners will be announced in this blog and at mom2ashley's Facebook page before the end of next week.
7. Winners will be given 48 hours to acknowledge their winnings. If you fail to do so, the prizes will go to the next selected winners.
So what are you waiting for? Go ahead and submit your stories now! If you are selected, you and your friend will receive prizes. Win-Win!