This is the last Barbie set we have had to review and so far, it has been an interesting journey for her to explore and create.
Barbie Hairtastic Cut & Style is similar to the Barbie Rapunzel set which we got for Ashley a few years ago. This set basically comes with 7  hair extensions, a pair of scissors,  2 hair bands, a hair brush , a pair of shoes and a set of clothing.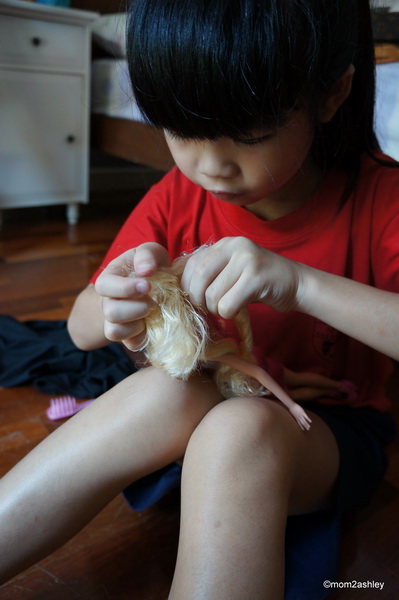 You get to decide how you want Barbie's hair to be – long or short.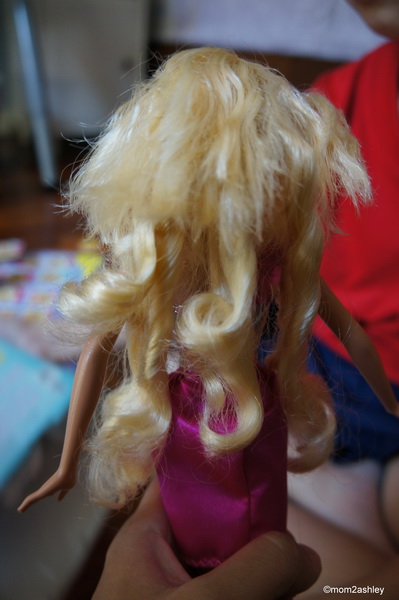 This is a picture of Barbie hair. Ashley was quite frustrated at how untamed Barbie's hair was and so unlike what was shown on the box. It took a lot of patience to tame Barbie's hair but honestly, it never looked as perfect as how it's shown on the box.  Honestly, I felt that this Barbie set isn't as interesting as Barbie Design & Dress Studio but one thing is for sure though that this set  has taught the little one to be more patient and that success doesn't come with the click of her fingers and that she has to work hard to get what she wants.
When she was bored with the hair extensions, she cut the hair extensions off.
Well folks, I will be hosting the very last Barbie giveaway contest next week. Again, 3 lucky winners will be selected and get a set of Barbie Hairtastic Cut & Style each. The giveaway contest will be held  next week, Monday,  22 Oct 2012. Watch this space! and check out for the latest updates at my Facebook page.