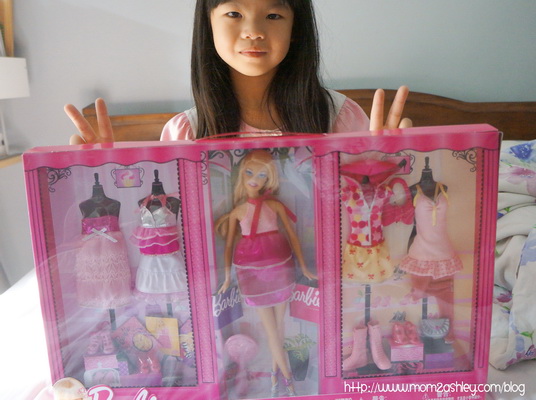 What is it about girls and Barbies?
When I was a kid, I never had a Barbie doll. Instead, I had a talking Garfield toy which I loved ever so dearly until my guardian (when I studied at Singapore) lent it to their annoying niece (I thought so then) and never returned it although they promised me that they would and I was super pissed off. I was 7 years old then. I also played with Pound Puppies, lots of plush stuffed toys – mostly from what I accumulated from our trip to Disneyland @ Anaheim, and played alot of masak-masak.
Ashley however is quite taken with Barbie dolls. She was very excited when she received this set. What's not to get excited about? The set comes with a Barbie doll, 5 sets of clothing, 5 pairs of shoes, 2 shopping bags, 2 handbags and a hair brush.
Oh the possibilities!
This set will definitely keep the little one occupied.
Stay tuned for the follow-up post on how Ashley plays with this set – coming up next week.
As like before, there will be a giveaway where 3 lucky winners will each receive a  Barbie Fashion Combo Holiday set. This will be coming up the week after next ( week of 13th Aug 2012).
Note : For those of you who participated in the Barbie Flower n Flutter Fairy giveaway contest, the annoucement of the winners will only be done next week and not this week. Sorry for the inconvenience caused.