This year, the Lil Taukeh wanted a Ferrari themed birthday party – or shall I say, I pretty much nailed down which theme to go ahead with because each time I suggest something to him, he'd say, "Yes, I want!"
Me : Superhero?
Aidan : I want!
Me : Angry Birds?
Aidan : I want!
Me : Batman?
Aidan : Yes! I want!
You get the drift….
So I decided to go ahead with a Ferrari F1 themed birthday party. I googled loads. Pinned loads and finally decided to design these.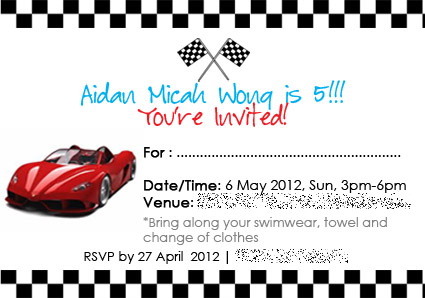 This invitation was printed on card stock paper.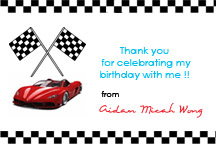 And I printed these on a A4 adhesive paper – 8 to a page, cut them and used this to seal their goodies bags.
From my previous post, you can tell that I am very excited about my brown-paper-bags find. It's being used everywhere but I did not manage to find them in various sizes until recently! I got the goodies from Happy Planet at Jln Tun HS Lee – wholesale which sells all kinds of kids' stuff! I go there every year to buy stuff for the kids' goodies bags. Didn't spend an arm and a leg there.
As for the cake…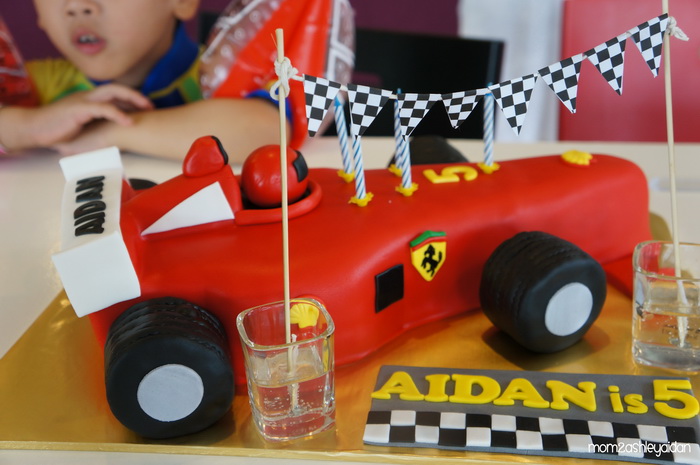 … Ferrari F1 cake of course! It's a marble cake decorated with fondant. This 2kg cake was RM350. Kinda steep but it was worth it because the  everyone polished it off! Aidan went straight for the tyre and walloped it! The cake is by Tracey from  Special Cakes. She made the kids' birthday cupcakes 4 years ago. You can read about it here.
I made the mini buntings myself. Ahem! Ahem! 🙂 I printed the checkered print on an adhesive paper, cut out mini parallelograms and folded them onto a piece of string (which I got from Popular bookstore) and tied each end of the string to a disposable party ware stick (got from the party section at Cold Storage) and poked each stick into a jelly candle cup which we got from a wedding dinner.  If you follow me on Pinterest, you'd know I'm head over heels over buntings! They are so simple and costs next to nothing to make  but the impact is huge!
We had a pool party because the birthday boy wanted to swim swim swim!
Food was catered at the venue.
The kids had so much fun in the pool – nothing else mattered. All the parents had a tough time getting their kids out of the pool!
At the end of the party, Aidan was totally knackered!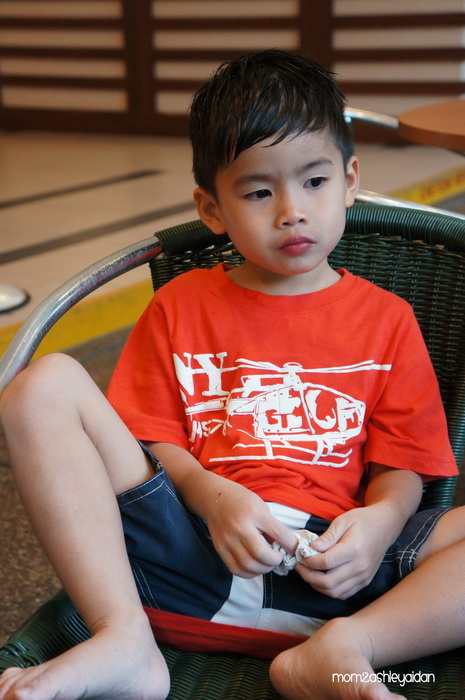 See how stoned he was ?…
Was he happy that he got his Ferrari F1 themed poolside birthday party?
YES!
Best of all, at the end of the day, he said, "Thank you for the party."