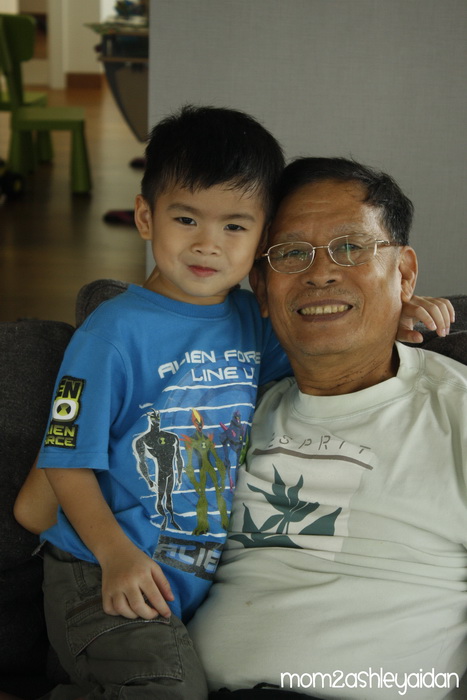 8 Jan 2012 – Aidan and Grampy
It's 13th Feb 2012. I just realized that I didn't post anything on Aidan's 1st day at school. I guess in a way, it's a good thing? It was  a non-event compared to the last two years. This year, Aidan is in K1. Since it is his 3rd year at the same kindy, we figured that he'd be used to the surroundings. The only changes he had to endure are his classmates and teachers. We prepped him beforehand and told him that I was going to walk him to his classroom on the first day only because it was his first day. After he settled into his newclassroom and saw 2 of his friends who were in the same class as him the year before, I knew he would be ok. This time, he didn't cling on to my leg like last year.  He didn't burst into a crying fit like he did on the  1st day of school 2 years ago.
I turned and walked away. I could tell that he was worried. It was probably the usual first-day-of-school jitters.
He didn't shed a tear.
My Lil Taukeh is a big boy now.  He hardly burst out into a crying fit like before. These days, if he really has to cry, he'd cry softly. Tears will well up in his eyes. He'd blink his eyes to hold back the flood gates and once the tears have built up and can no longerbe contained, big tear drops would roll down his cheeks and he'd sob silently and he'd make a conscious effort to control himself. Aww…my big boy.
Anyway, back to his first day of school. When I picked him up from the school, he was a happy camper. The next morning, we dropped him off at the school entrance and he happily bade us farewell.
That's it.
Our lil taukeh is no longer a baby.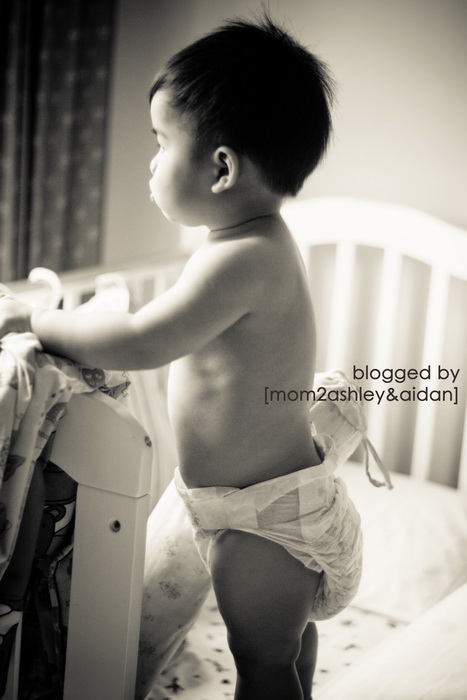 6 Sept 2008 – Aidan at 1y 4m
Soon he'd not want me to kiss him in front of his friends.
Ok, I got to get a hold of myself.