Where do I start? After our Avillion trip, we/I have been away for the next 2 weekends. Let's start with the weekend after Avillion…..
We.went.to.Penang.
It's a big deal cause I've always wanted to make a trip there but the dear hubs (DH) wasn't keen due to the long drive but when the opportunity to play football arose, DH was all set to drag the whole family there.
Men…
Anyway…
On 1 Oct 2011, Saturday, we drove up to Penang.
Our first stop was food court somewhere at Ipoh. We wanted to try some duck noodles but somehow ended up in a different place.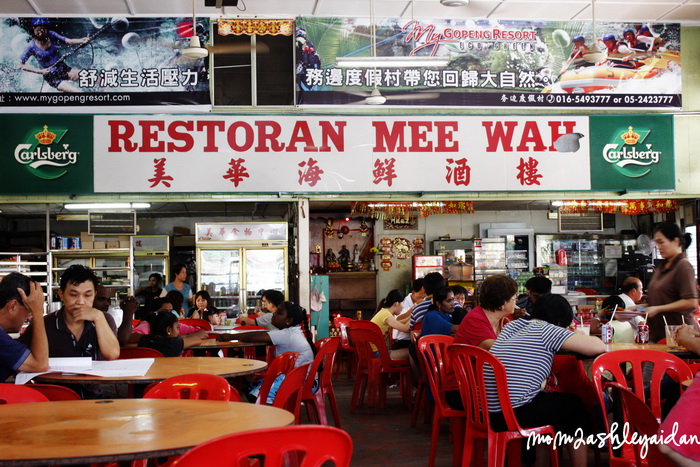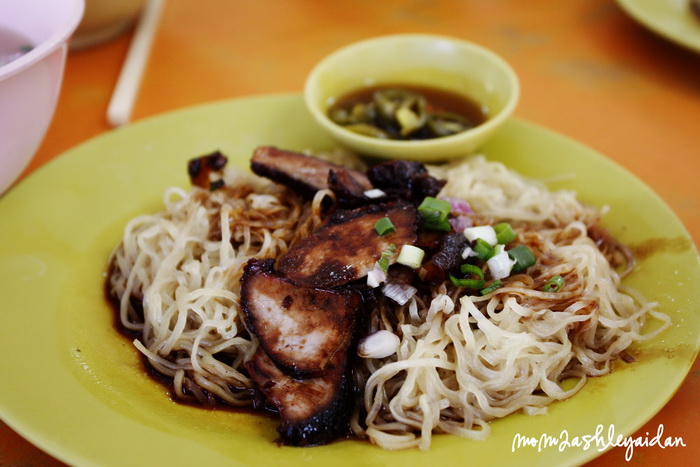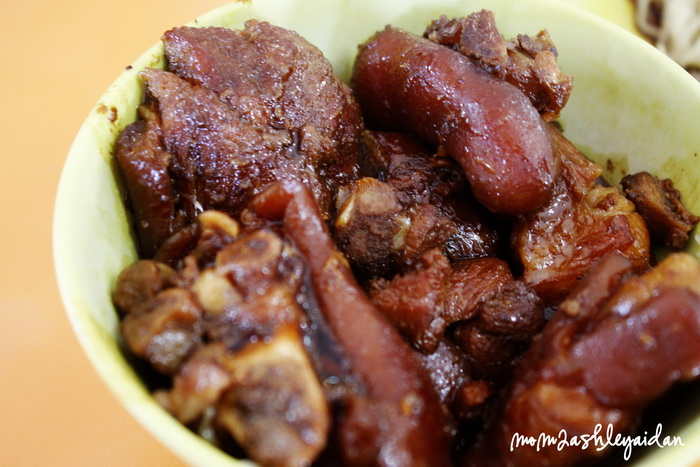 The food were yummy or maybe it was because we were hungry?
After lunch, we continued our journey up north…
I love the architecture on the heritage buildings in Penang. I just wish that they would make more of an effort to refurbish and maintain them. They all look so quaint…and vintagy (is that a word?).
After reading Agnes' blog on her Penang trips, I had to try the places she mentioned. We decided to have lunch at Nyonya Breeze. As soon as we stepped into the restaurant, we were greeted by the aromatic Nyonya food!
The kids decided to sit on their own.
Ayam Pongteh – so yummylicious! I was afraid my tummy won't agree with the chillis but then I thought 'eat-now-suffer-later' la!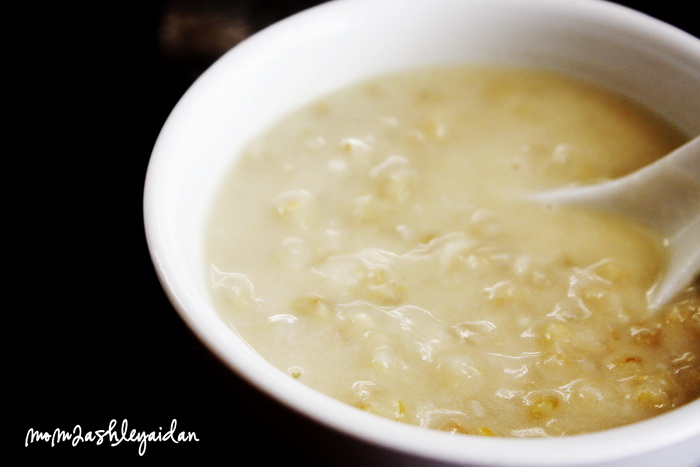 We had Gandum for dessert. Yumz!!! 
We ordered some other stuff as well but I was too excited and forgot to take pictures. 
If you want to try out this restaurant, here are the details :
Nyonya Breeze
No. 50, Lorong Abu Siti,
10400 Georgetown, Penang
Tel: 604-227 9646
Business Hours:
Lunch: 11:30am – 2.30pm
Dinner: 6.30pm – 10.pm
Closed Every Tuesday
We stayed at Traders Hotel  but a friend of mine suggested afterwards that we should have stayed at G Hotel – perhaps next time..
After driving around the city, we headed back to the hotel. I had a bad case of sinus and the medication i took earlier that morning only kicked in after lunch. So while the DH brought the kids to the hotel pool to swim, I slept like a baby. When it was time for the DH to play football, the kids played in the bath tub in our hotel room and then we headed to 1st Avenue Mall which was right next to Traders Hotel. We walked around abit, got the kids to eat their dinner at Kim Gary and headed back to the hotel to wait for DH to come back from his football game. 
For dinner, we met up with my ex-uni mate at Soul Kitchen and had pizzas. 
Soul Kitchen, 102 Lebuh Muntri
10200 Georgetown, PULAU PINANG
Tel : 04-261-3118
No pictures again as Aidan was sleeping on my lap! The pizza's are nice. We didn't get a chance to eat the pastas though. If we go back to Penang, I'd want to go back there to try out the pastas and their desserts. I heard that they're good.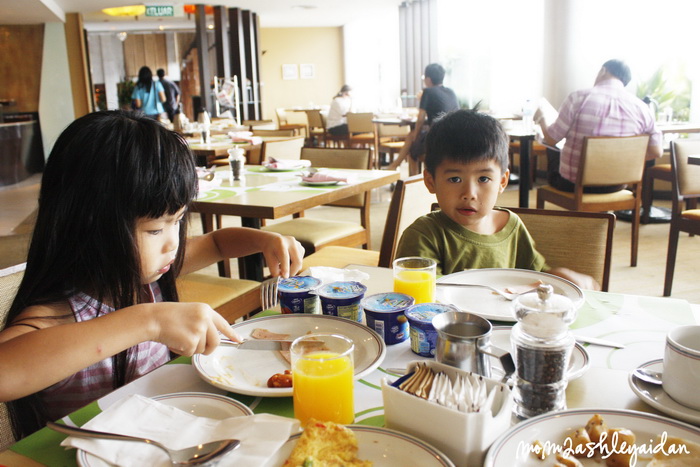 After a hearty breakfast at the hotel, we checked out and decided to visit the Penang Peranakan Mansion (29, Church Street, 10200 Penang, Malaysia.) before heading back home.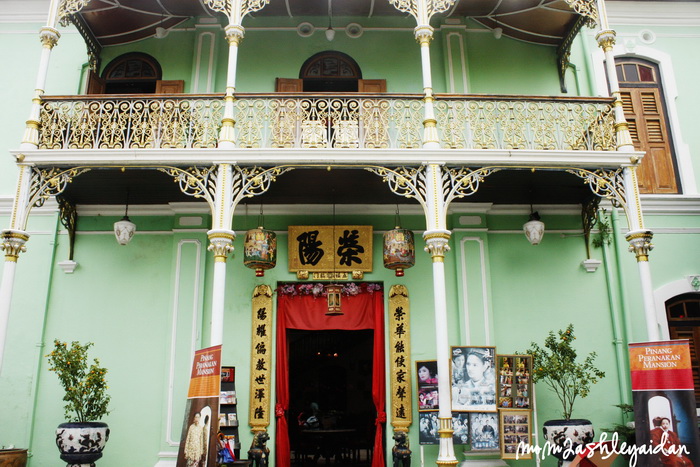 I was very excited to visit this musuem because this was the Chen family house in the  The Little Nyonya TV series and at one point in time, I was hooked to this series. It's an excellent MediaCorp production which gives you a taste of the Peranakan  rich lifestyle, culture and traditions.
We got abit lost looking for this mansion. Our GPS brought us in circles and it didn't help that they blocked off some roads to film a movie…. I asked around and noone knew where the mansion was and little did we know that it was only 1 block away from where we parked.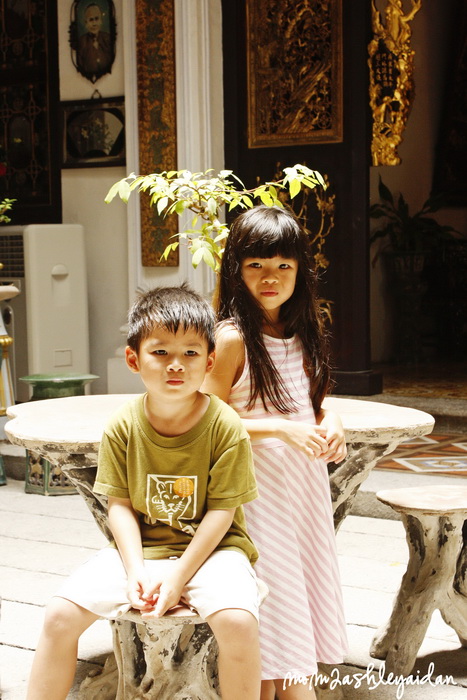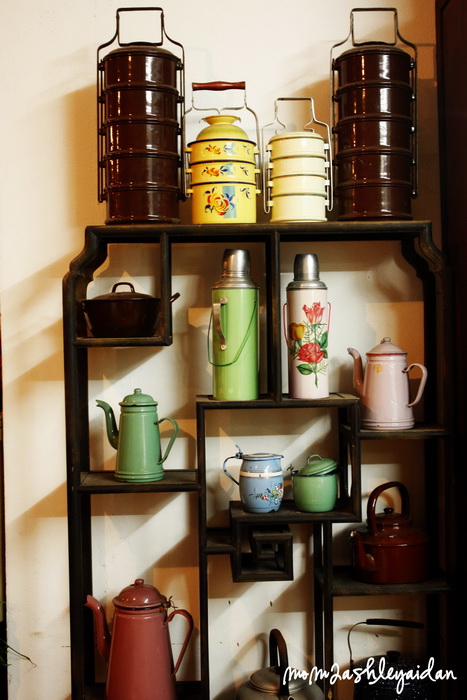 After the mansion, we started our journey back to KL.
We stopped over at Ipoh at the infamous Onn Kee Restaurant to have chicken with beansprouts.  No pictures as it was raining and we had our hands full with the kids and umbrella and all..
By the time we reached home on Sunday night, it was late in the evening and everyone was exhausted! Going on a road trip for more than 4 hrs with the kids is no joke! Would we do it again? DH and I will think thrice!