The kids' kindy has planned about 4 theme days in a year. This means that the kids will need to dress up to school accordingly. The last theme day was about insects. As usual, I left it to the last minute…..but came up with something not tooo shabby…
For Aidan – I decided that with the limited stuff that I have at home, I coerced him into agreeing  with me to go to school the next day as a lady bug 🙂 I drew and colored red circles on an A4 sticker paper with a red marker pen, cut the circles out with Ashley's help and pasted it on Aidan's black top and trousers…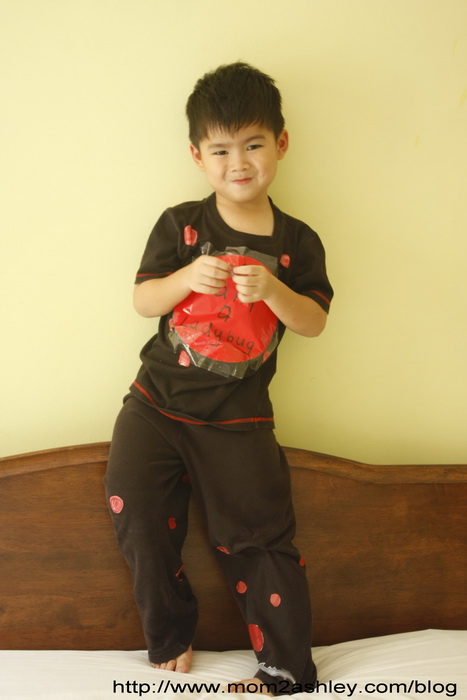 On the front, I pasted a big red circle to cover a Jurassic Park picture and wrote (in case people didn't know what he was supposed to be) – I am a Lady Bug! One parent saw him at school and said, "Oh! It should say that you are a Boy Bug instead!"….Hmm..Ok nevermind, it went in my right ear and came out on the left ear.
A few days later, I realized that I got the colors reversed! It should have been black dots on a red background! Oh well….
As for Ashley, she initially wanted to go as a butterfly but her butterfly wings were ruined and I had already thrown them away. At the 11th hour, I proposed that she go as a  dragonfly.  Why dragonfly you ask? Because  she has a dress with  a 3d dragonfly brooch on the front so half my battle was won. 🙂 I drew a picture of a dragonfly on 2 pieces of sticker paper, cut it out and pasted it on the back of her dress. Notice that there is a gap in the middle of the dragonfly? That's because the zip runs through the center of the dragonfly.
Initially, before I started working on both the kids' outfit, Ashley commented that G's mom was verrry clever.
Out of curiosity, I asked her why she said that.
She replied, "Because her mommy knows how to make an elephant outfit all by herself." – The previous theme day was about animals.
So i asked her whether she thought I was clever…
She replied, "No…because you don't make them. You buy them (outfit)"
Celaka!
She went as a butterfly in one of the previous theme days and I got her to wear butterfly wings which I bought from Toys R Us..
But after I made the ladybug and dragonfly outfits for Aidan and her respectively, she changed her mind about me and said, "Mommy, you are so clever!"
Kids…