It seems  like only  yesterday when I complained about how I felt like a beached-whale while expecting Aidan 4 years ago and yesterday (Sunday), on Mother's Day, my lil taukeh turned 4! Since his birthday fell on a weekend, we had a celebration at his kindy on friday. While I was planning for the celebration in terms of cake and party pack planning 3 weeks ago, Aidan requested for a Superman themed cake and party pack. The next day, he requestd for Batman, then Transformer, Astro Boy and the list went on  and on. Then I decided on a super hero theme by incorporating all the super heros that he liked into the cake and party pack.  As per the previous years, I ordered yummy vanilla cupcakes   from Abrina but this time with white swirls. I highly recommend her cupcakes because they're not so sweet, they taste yummy, the size is just right for kids and they are so reasonably priced (RM45 for 36 cupcakes). I made the cupcake toppers myself  – with some help from Hubs and the result?…..
 A VERY happy 4 year old!!
This is yet another classic example of kids appreciating the simplest things in life without causing a hole in the pocket!
Aidan surrounded by his classmates and of course..his big sister!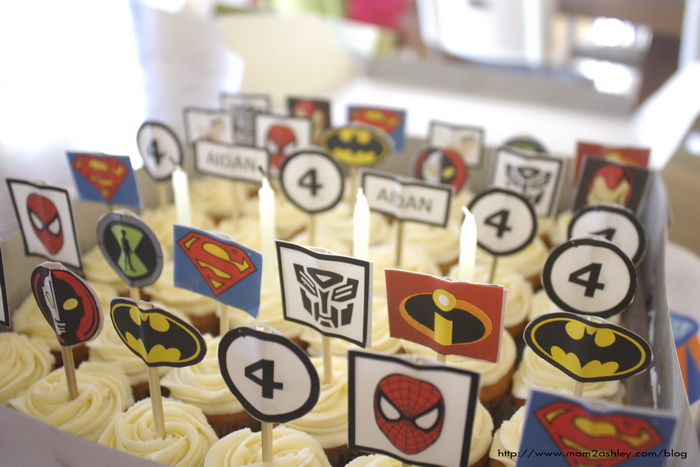 Every super hero needs to have a survival kit – no?
This survival kit contained the following :
– a pair of Mickey Mouse socks (ok not so super hero…but what the heck?)
– a packet of japanese biscuits
– a packet of M&Ms
– a box of raisins
– 1 pack of those chinese red, round snack – which looks like the bread taken by the congregation during holy communion…
– 1 packet of Skittles
Can't believe Aidan is 4!
Where is the pause button????