As always, there's always  a year long anticipation to the Christmas holiday season  and by now, 1 Jan 2011, it came and went  and our holiday has come to an end and it's a start of a new year and decade. Last Christmas we decided to make a trip down south to Singapore. It was the kids' first time in Singapore and we figured we had to do the touristy thing for family with kids and so we went to Universal Studios, Night Safari and the Singapore Zoo. I'll let the pictures do the talking….
Day 1 – 23 Dec 2010
We left for Singapore by road on the 23rd Dec 2010. We left the house by 8am and the kids were still groggy from being woken up.
The kids slept most of the time on our way from KL to Singapore.
And if they were awake, they were either playing together or on the iPad or the Nintendo DS Lite. They got abit restless when we were reaching the border and I understood their restlessness.
We stayed at Trader Hotel, located at one end of Orchard Road. When we arrived at our hotel, we settled down and then  decided to take a walk towards Orchard Road and grabbed something to eat at Modestos.
On our walk back to the hotel, Aidan was so excited to see the motorbike (Is that a Harley?) parked at the side of the road and my dad convinced him to pose by the bike so that I could take a picture of him.
Ahhh..gotta love that smile of his.
At about 6pm, we decided to head to the Night Safari. We decided to take the tram ride at the Night Safari and might I say though, Thank God for trams – cause that meant we just had to sit back and relax and enjoy the view 🙂 There were foot trails that visitors could go on but we decided not to go on any of it cause did I mention that travelling with a 3yo and 5yo was so tiring???! And if you noticed, I don't have any pictures taken at the Night Safari cause flash photography wasn't allowed during the tram ride.
After the Night Safari, we headed towards Newton Food Centre and this was already at about 10pm+. My parents and I remembered going to this place for good food more than 10 years ago  and so you can imagine our anticipation when we arrived at this hawker centre. My dad, hubs and I went out separate ways to order food and we ended up ordering 6 dishes in total but to our utter disappointment, they don't taste as good as before. On top of that, we struggled to finish the food on the table as we didn't want to waste the food.  If  you walk around the hawker center, you'd notice that they sell the same stuff. Let's just say that I won't make a special trip there in the future the next time I am in Singapore.
 Day 2 – 24 Dec 2010
On Christmas Eve, we decided to go to Universal Studios! Remember, to avoid any disappointment, buy your tickets online  (which we did) as they limit the number of people to enter the Universal Studios – which I think is a fantastic idea cause that means there is some sort of a crowd control in place unlike Sunway Lagoon Theme Park  or Bukit Gambang Resort where they are  FULL of people  (especially during holidays) to the point where you don't enjoy being there. Overall, the Universal Studios in Singapore was ok. If you have not been to the Universal Studios in U.S. before, you might like this one in Singapore. But if you have been to Universal Studios in U.S, don't keep your hopes to high for this one in Singapore as some of the rides/theme parks are not open yet and they give you a $5 food voucher and %5 retail discount voucher to compensate for that.
The kids loved the 10-min Madagascar dance show.
We caught the Water World show – which is the same as the Water World Show in the Universal Studios in the U.S.
After going on a couple of rides, we decided to stop by to rest and we let the kids play in the water feature. The highlight of Universal Studios for the kids was not the Kungfu Panda that they met or the rides that they went on but playing at the water feature was their main highlight of the day! Whilst playing, Ashley said …
Ashley : Mom! Singapore is so fun!
Me : *rolls eyes*
Shrek fans? Does this look familiar to you? Unfortunately, we didn't manage to go in it cause everyone was tired and it was going to pour.
We spent about 5 hrs at Universal Studios. 2 things I regret not bringing to the Universal Studios were :
1. Sunglasses – it was freaking hot!
2. A stroller – the kids got tired of walking – especially Aidan and wanted me to carry him all the time!
When we left Universal Studios, it rained cats and dogs! We were all knackered by then and slept in the car on the way back to the hotel while poor hubs drove.
That night, since it was Christmas Eve, my dad arranged for all of us to have dinner together at the hotel. The food wasn't great at the hotel but it's the company with family that matters.
Day 3 – 25 Dec 2010
Merry Christmas!!!
We attended a morning mass at Church of Sacred Heart at 111 Tank Road. Unlike the churches at KK, this church was not overly crowded. The crowd was like a regular mass crowd in a church in Malaysia. (Thank God for that!)
After mass, we headed to the Singapore Zoo. This was our first time there (2nd for my parents) and I must say that this is the best zoo I have  been to  so far. Ashley begs to differ and prefers the Taman Safari Indonesia at Bogor instead cause she said they got to feed the animals. Unlike the Zoo at KL, this zoo was well kept, the people who worked at the Zoo are very well-informed about the Zoo, the animals were very active (obviously not sedated) and there was just so many things to see at the Singapore Zoo! For those of you who have been to the Zoo at KL, what is the first thing that greets you at the entrance of the zoo?
Oh yea….the welcoming smell of pee and poo. Don't believe me? Go to the KL Zoo and take a nice big whiff at the entrance. Blech…
Anyway, the weather was not too bad on that day. It rained a little and we were equipped with our ponchos which we bought from Universal Studios. When the rain stopped, I was rather impressed with how quickly the staff at the Zoo wiped the outdoor benches dry so that visitors could sit on them.
Grandpa carrying his cucu to see the white tigers.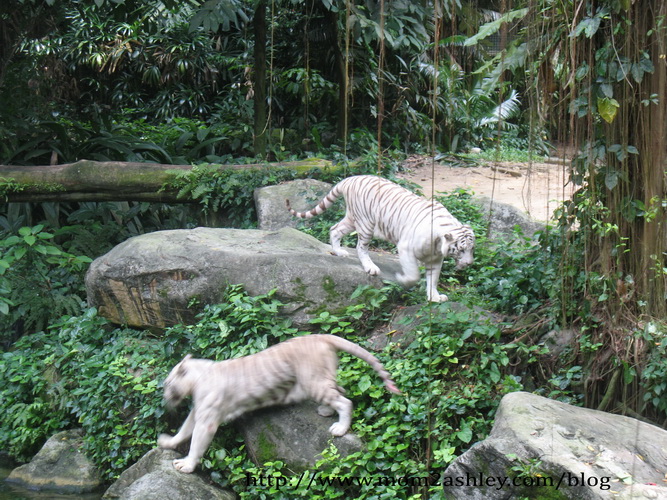 The white tigers were lovely and they were soooo active. They were walking up and down and though they knew they were on display.
Ashley was quite fascinated with the giant tortoises.
I read from Chin Nee's blog that there is a wet park at the Zoo and we planned on bringing the kids there but by the time we reached there, it had started to rain. Obviously the kids was super disappointed and we had to quickly remind them that they'd get to swim at the hotel pool which was going to be less crowded. Both the kids agreed and we moved on. Phew!
There were more pictures taken but I'm too lazy to load them up here. If you're my friend in facebook, you'd be able to see more photos once I upload them there.
After the Zoo, we headed back to the hotel and prepped to go to Marina Sands. While hubs and my dad went to the casino, my mom, the kids and I shopped around at the Marina Sands mall till 11pm. Yeap! The shops were still open at 11pm!
Day 4 – 26 Dec 2010
Day 4 was more of a rest and relax day. My parents flew back home that day and we stayed back for another day. We shopped a bit at Orchard (can't shop much with 2 kids with us) and spent the rest of the afternoon at the hotel. While I took a long afternoon nap, hubs brought the kids to the hotel pool after which the kids declared that playing at the water feature at Universal Studios and swimming at the hotel pool were the highlights of the Singapore trip!
Day 5 – 27 Dec 2010
We made our way home.
At the end of the holiday, we were all knackered and both hubs and I felt that we needed another holiday to recover from this one.
When we reached KL, both hubs and I got ourselves a massage and slept like babies that night. Ok maybe not like babies since not all babies sleep soundly at nights! but we slept sooo well that night!