It was theme day at the kindy last week.
Theme for nursery kids was Recycle.
Theme for the K-kids was Fruits and vegetables.
So I we got to working…..
We started working on Aidan's stuff.
Thank God for the internet, I managed to print some Recycle logos onto sticker paper.
I made Aidan a neck tie and a bag out of newspaper and decorated them with the recycle logo stickers.
Check these out.
This is the bag made from recycled paper.  I printed the recycle logo onto sticker paper and stuck it onto the bag. He looks so proud to be carrying that bag 🙂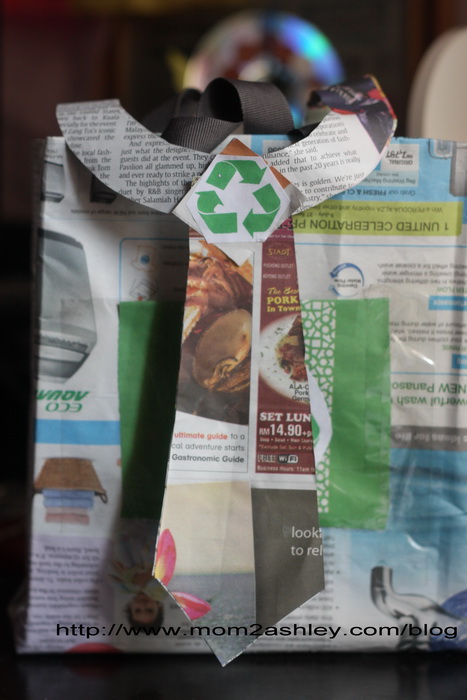 Here's the necktie I made for Aidan.  Not sure if you can see it properly as I laid the tie on the bag.
 And here's what we did for Ashley's fruits and vegetables theme.
 This is Ashley's basket of fruits and vegetable. I printed picture of fruits and vegetable for her on sticker paper and got her to stick all over her heart-shaped fruits and vegeatbles basket.
And on the day itself…they looked like this….
 This is the back of Aidan's shirt. I stuck the recycle logo on the back of his shirt too!
Love it!
Btw, I read about the hairclips Barb bought for her Ashley and couldn't resist it!  AShley's wearing of one of it. Check out what else I got for her.