The first thing Aidan asked when he woke up this morning was, "Where Cheh-Cheh?"
Ashley had gone to school and Aidan hasn't fully recovered from fever/flu/cough so he's off school this week until he recovers. (Wouldn't want the other kids to get the bug from him would we?)
The next thing he asked for was not milk but……
"I want Mamee!"
.
.
.
.
.
.
.
.
.
.
14 Jan 2010 – Good Morning Mommy Mamee!
He asked me to open the packet of mamee for him. I agreed. On one condition – that is he had to smile at the camera for me – which he didn't at first. He just stood there by the bed and looked out of the window. Or probably thinking whether the trade off was worth it or not –> smiling for the camera and get an opened pack of mamee in return.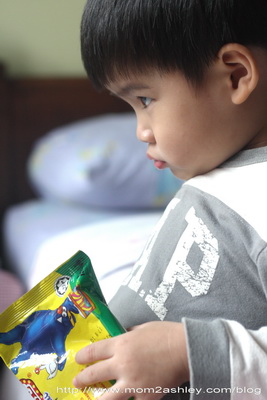 …and after abit of persuasion, his  face lit up.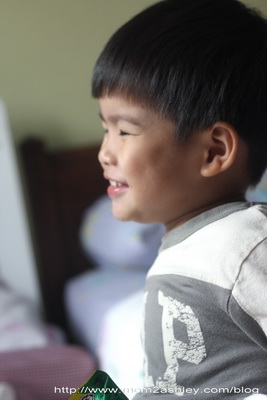 Ok..good enough….and I opened his packet of mamee after that. He was so grateful he thanked me with a kiss after that 🙂