While others wake up early in the morning to avoid the traffic jam, Aidan wakes up to create traffic jam/chaos….
.
.
.
.
.
.
.
.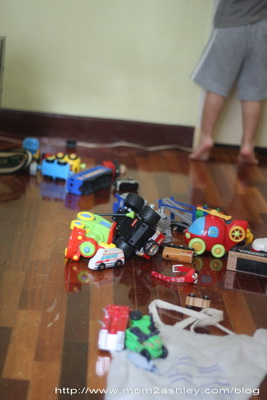 He has 2 big bag of cars at home which he bring along whenever he's upstairs or downstairs….
When I asked him to play with his cars on the smoother side of the bed, he said, " No need. I want bump." – referring to the uneven surface on the bed made by the bedsheet or blanket.
I guess it's a boy thing. We didn't deliberately introudce toy cars to him. He naturally had a fascination for vehicles or anything with wheels or a conveyor belt. I wonder what he'd do if he see a bunch of  treadmills.
By the way,  I just realised that I have a BUNCH of bento stuff which I purchased wayyyy back in  2008 (YA! 2008!) and I never got around to use them but plan to now that Ashley have started to bring lunch to school 3 x a week and  stay back after lunch for Mandarin class. I blogged about it here.