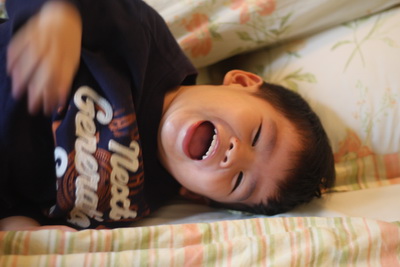 I really enjoy listening to what Aidan has to say these days because he has picked up so many words which enable him to better express himself.
Spot the Vehicles
Whenever we are on the road, he'd sit up straight in his car seat and is usually very alert – looking out of the window. The moment he spots buses or trucks or heavy machineries,  he'd shout of excitement and say "Lorry!!!!!!!! Long lorry!"
"Digger!!!! Big digger!"
"kim!!!!!" (crane)
What?
Me : Aidannnnnnn?????
Aidan : Whaaaaatt? (in a very innocent way) Whattttt Mommy????
He loves his vitamins
Without fail, after every meal, he'd ask for Cod Liver Oil (the orginal yucky one). I never liked to take this when I was a kid but surprising both the kids love it. After that, he'd point at our medicine cabinet and asked for "Min!" (Vitamin C for kids).
Up to about a month or two ago, Aidan never liked to take any oral medication. I used to cringe when it was time to give him his meds (when he was sick) because he'd refused to take the medicine via the spoon and we had to resort to clamping his legs and arms so that we can squirt the meds slowly into his mouth. Suddenly, not sure what happened….he suddenly decided that he loved to take meds and even willingly takes his oral meds via the little medicine cups and when he's done with them, he'd flash his victorious smile at us.
Expressing himself
I'm glad that Aidan is able to express himself better now. He'd say things like :
"Hand. Wash" (when he wants his hands washed)
"Ear. water" (when water went into his ear while taking a shower and after a while, he said "No more" to indicate that there was no longer water in his ear)
"Duduk here"
"Mommy!?? 1 more…Pisssss!!" (please)
"Hot! Hat!" – he'd request to wear his hat before we take him out for a walk
"Ok-thank-you-Bye-See-You-Mama-Yeh-Yeh" – he'd say this in one breath!
And sometimes…when he is just plain bored, he;d just shout out "mommy-daddy-kakak-mama-yeh-yeh!…." and then we'd all look at him with puzzled faces and he'd laugh!