Look at what we had …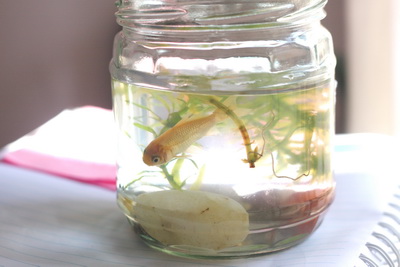 Ashley had a container filled with water and a fish in it when I picked her up from school today. The kids learnt about fish and how they can breathe underwater and all and after that, each kid got to bring back a fish. Ashley was pretty excited when she handed the fish over to me.  When we got home, I transferred the fish to a bigger container. Ashley wanted to cover the container …
Me : No…don't cover the container or the fish is gonna suffocate
Ashley : No. It won't. It's got gills and can breathe under water
wwwooookay….
She had wanted to show it to hubs when he gets back later. Unfortunately, this little fishy didn't manage to meet Hubs because after about 2 hours, the lil fishy was already dead!
Ashley : Mommy…why isn't the fish's mouth moving?
I went over to have a look at the lil fishy…
Me : Ashley, the fish is already dead!
Ashley : No. It's eyes are still open! Maybe he is resting…
Me : No…it is dead.
And i scooped the fish out of the container.
 Poor lil fishy…