Every morning, when I get Ashley ready for school, Aidan would also want me to get him ready. He'd want me to brush his teeth, change him, put on his socks and shoes and he'd want to carry a school bag even! He is SUCH a morning person. As soon as he wakes up in the morning, he can start jumping on the bed and start playing with his toy cars – who is so different from Ashley. Ashley is like Hubs and I and like the rest of the world!?! We like to laze around in bed before actually get out of bed.
8 May 2009 – All set to go to school! Aidan didn't want to be left out. He insisted on carrying the school bag (although it was empty!)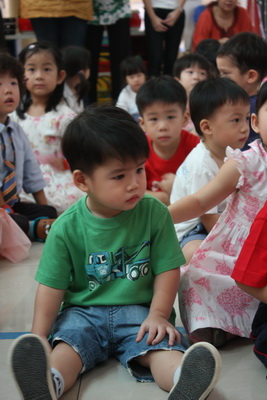 8 May 2009 – Aidan sitting with Ashley during the Mother's Day celebration at Ashley's school. I reckon Aidan will have no problems blending in when he starts school next year.
15 May 2009 – Good Morning Kiddos!
 School holiday is coming up……am thinking on going on a short trip and make sure that we have travel insurance.