7 April 09 – I so love how his face lights up when he smiles…
Aidan is just 1 month shy of his 2nd birthday and OMG! He's almost 2?????!?? Anyway, at 23 months, Aidan never cease to amaze us. He is getting mischievous by the day and he loves to trample on Ashley. Poor Ashley always gets scratches and bruises from Aidan. And when Ashley lashes out verbally at Aidan, their conversation would go like this…
Ashley : Aidan!!!!!!!!!!!!!!! You naughty boy!
Aidan : Boy! (Which he really meant to say 'Good Boy')
Ashley : I DONT' WANT TO PLAY WITH YOU ANYMORE!!!!
Aidan : Ka-ko? (He meant to say Nicole…not sure why..)
Ashley : NO KA-KO!
Aidan : Mama? (MIL)
Ashley : NO MAMA!
Aidan : Yeh-yeh? (FIL)
Ashley : NO YEH-YEH!
Not sure why he would call out Nicole, Mama and Yeh-Yeh's name but we reckon that those are the peple who would give in to him when he is at MIL's house.
When we are all lying down on the bed, Ashley would lie down next to me on my left and hold my hair while she sucks her thumb and Aidan will do the same on my right. Then in less than 1 minute, he'd purposely go over to my left side where Ashley is and he'd land on Ashley so that he can squeeze in between me and Ashley. Ashley will then go over to my right side and hold my hair while she sucks her thumb. Aidan will then go over to where Ashley is, land on her and squeeze i nbetween Ashley and I. Ashley will then go over to my left side and this happens again and again until I really get fed up! And when Aidan lands on Ashley, he literally plonks his entire body on Ashley from standing position!  Boys will be boys….
Besides that, Aidan do understand what we say but he's not ready to speak yet. He can string 2 -3 words together as of now…e.g.
– cheh-cheh? Come!
– Cheh-cheh? Duduk!
– cockroach!!! yeee!!! scared.
– Kakak????!!!!!! Mi-nom!!!!!! (drink)
– Kakak????!!! Ma-mum! (eat)
– Cheh-cheh? Hug! (with arms wide open, waiting for Ashley to hug him..)
I've tested whether the naughty step technique will work on Aidan. I believe he understand the consequences of not listening to me after counting from 1-3 because by the time I say 1, he'd look really sad and look away (like a real academy award actor). By the time I say 2, he would start to cry. By the count of 3, he'd be wailing! "WA! WA! WA!" I once sat him at the naughty corner for 1 min and he cried  and looked so sad that he was put there. After witnessing his sister get put in the naughty corner numerous times, I reckon he does understand what's going on. However I don't think we really need to implement the naughty step technique to him as of now…..we'll wait till he's a little older:)
Happy 23 months, Aidan!
Calling for help to take him off the see-saw. I was too busy snapping pictures of the kids (of course) 🙂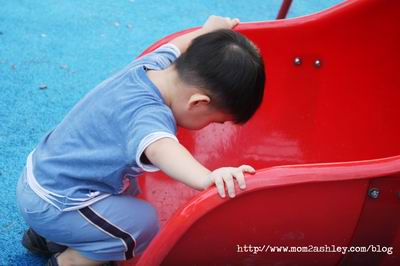 Aidan checking out the ants on the slide….
Aidan contemplating whether he should slide down the slide…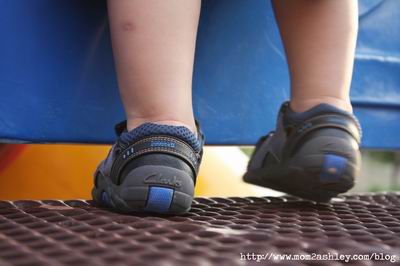 He loves to run around when we go out – which i reckon is normal but Ashley didn't run around as much as Aidan when she was his age. . A friend of hub's reckon that we should bring Aidan to the park more often so that he can run to his heart's content. Perhaps it'd be easier just letting him run around an rv with less supervision required as opposed to letting him run around in open spaces 😛 – just kidding 😛