27 Dec 2008 – While we boarded our plane from KK to KL, both Hubs and myself were busy handling the luggage and Aidan. When we looked around for Ashley, she was on another aisle. She had already sat her baby down next to her – belted up and all! 🙂 LOL!
We decided to stop ashley from goimg to the previous school she used to attend  since she was 2yo to the one which is at our neighbourhood. Her new school is a 5-min walk away from our home. Last week was her first week at school and I must say that she did absolutely great! She did not cry nor fuss nor look worried at all. She just looked curious – like how she was on her 1st day at school at the previous school she attended.
When we found out last year that the school had a vacancy for her, we were ecstatic ( of course) cause that meant that :
– I could walk her to school and back (Going Green starting this year -> part of new year resolution :P)
– we don't have to depend on my FIL to pick her up from school
– we can both sleep in a bit later  in the mornings and don't have to worry about traffic jams!
Each time we drive past the school on our way out or when we are going home, she'll say the name of the school and say," I will be going there next year after Christmas!" ( which is this year in Jan).
Last Monday was her first day at the new school. To our surprise, for a lil girl who has been waking up at almost 10am during the school holidays last year, she woke up at 7.30am – on her own! She diligently drank her milk in bed and then I got her ready for school.  We took a stroll to her school and she was great! i brought her to her classroom, showed her where the washroom was and then I left her there after 15 minutes. When I picked her up after school, she was happy. The school is staggering their school hours starting from 1 hr during the 1st week and increasing it by 30 mins every week until it reaches 3 hours. When I asked her whether she enjoyed going to this school, she said, "Yes. It's nice and short." (as in the school hours)
Bravo to the Lil Missy!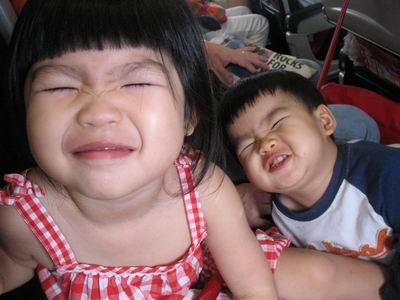 27 Dec 2008 – The kids mucking around in the plane on our way back from KK to KL….
..and how was Mom's Little Treasure Box's 1st week?
It was great! I have about 18 bracelet orders and I have not been sleeping much at night so  that i can catch up on my orders when the kids are in lala land! But hey, I really enjoy doing this. I know some of you have already signed up to be in the mailing list but I'm still not sure how i am going to manage the mailing list since I have new items being posted everyday other day and i don't want to spam your mailboxes:P
Here are some of the stuff which I posted today….P/S I started making key chains too…
Thanks for your wonderful support!!!