(Pictures taken on 11 Oct – Aidan @ 1y 5m, Ashley @ 3y 4m)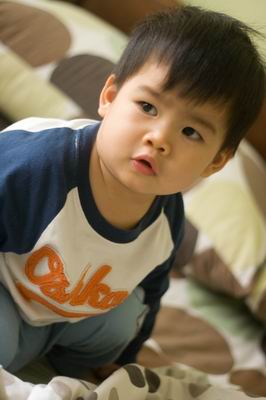 11 Oct 2008 – Gooooood Morning Aidan.
It surprises me how easily Aidan wakes up in the morning. As soon as he is awake, he'd sit right up on his bed and he'd walk over to our bed or to Ashley's bed.  (our beds are all joined together). He doesn't laze around on the bed before waking up – unlike Ashley.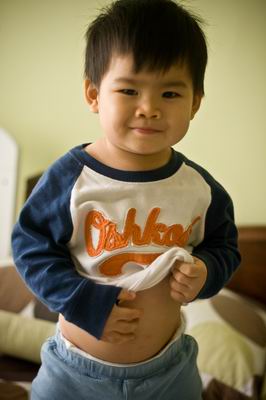 Here's Aidan showing his belly button when I asked him where his belly buton was….Love that smirk on his face…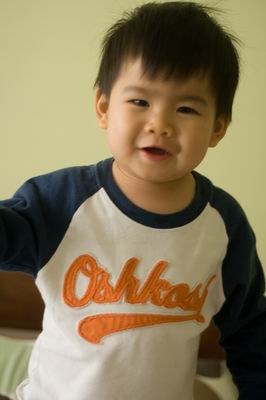 Love this photo of Lil Taukeh….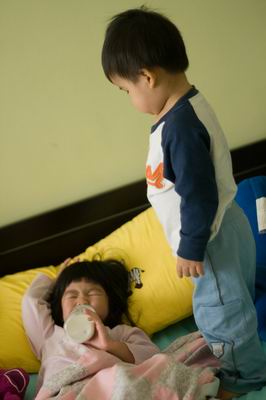 Aidan looking on at Ashley while she drank her milk. Aidan woke up way earlier than her and he had already gulped down his milk by then….He must be wondering what took Ashley so long to finish her milk. He takes approximately 2 mins to finish 8oz of milk..as opposed to Ashley who takes like 20 mins to finish her milk – dilly dallying about…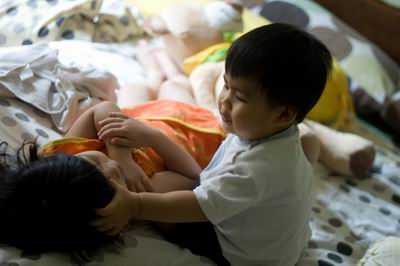 After their morning bath, they played together on the bed…