We had a joint party to celebrate Aidan's 1st birthday and Ashley's 3rd birthday last Saturday (10 May 08). It was a late birthday party for Aidan as the part was 2 days after his actualy birthday and an early party for Ashley as her birthday is on the 2 June. I felt a bit guilty cause I started preparing for Ashley's 1st birthday party  3 months before the party and 2 months before her 2nd birthday bash  but for Aidan's 1st party….I started to organize it like 3 weeks before!
The Birthday Boy and Girl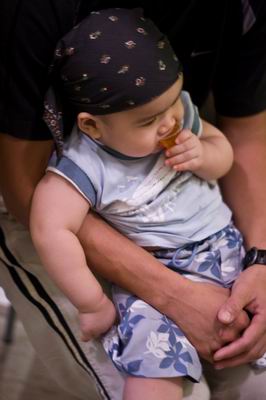 My Lil Taukeh – chillin' on Uncle Terence's lap.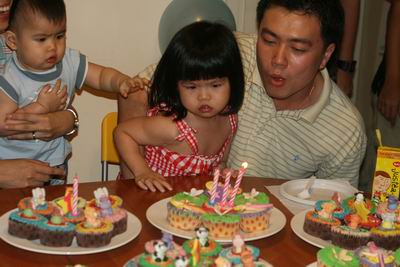 And look at the reluctant birthday girl…..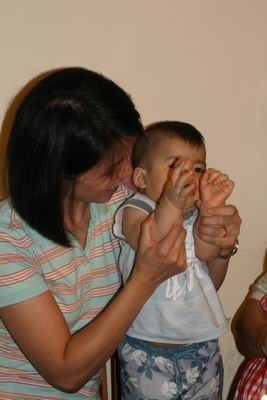 Aidan was oblivious to what was happening…had to clap his hands for him 🙂
The Birthday Cake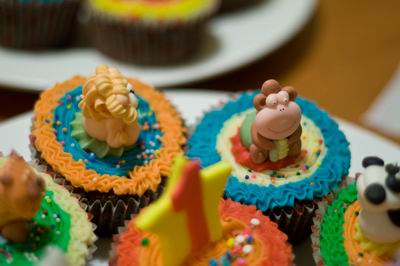 We didn't celebrate it at Marmalade nor did we order the cake from Lilian like we used to. (Lilian's cake prices have gone UP!) This time, we ordered cupcakes from Special Cakes – thanks for Jazz's recommendations. I must say not only do they look pretty, they taste YUMMY!
For Aidan's cupcakes, I ordered the chocolate cupcake with Jungle Animals on them.
For Ashley's cupcakes, I ordered the vanilla cupcakes with Little Fairies (they look more like mermaids!) and Butteflies on them.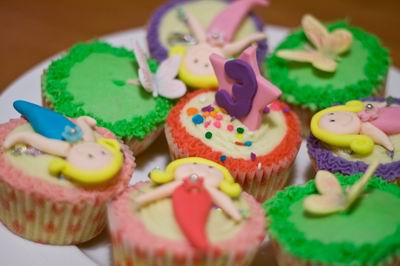 These cupcakes don't come cheap though. I ordered a total of 50 cupcakes and paid RM306! BUT!? They look good and tastes really good! I can vouch for that cause for someone who'd through any cake leftovers, I actually had the leftover cupcakes for breakfast for the next 3 days! and the best part? The icing or whatever you call it on the top of the cupcakes are not so sweet!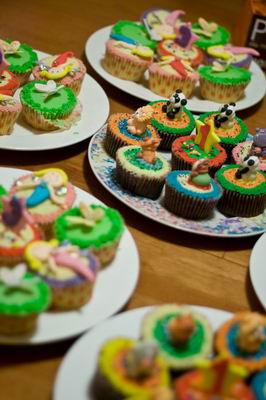 The Venue
Oh and did I mention? We had the party at our house for family and close friends. My house is so small and everyone wanted to be in the air-conditioned house and thus my living hall/dining area was packed with people!
The Balloons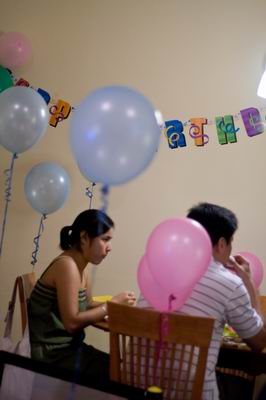 So since we decided to have the party at our house, we decided to decorate the place with some balloons. So off we went to the party shop at Ikano. Let me warn you – they are throat-cutters! Their Helium balloons go for RM1.80 for the balloons and addition RM4.00 for the helium PER balloon. So if you're thinking of getting Helium Balloons? Forget about that party shop (there is only 1 party shop at Ikano). Everyother place e.g. Balloons Bouquet and the little kiosk outside of the Giant Supermarket at Atria are selling the Helium balloons for Rm2.50 each (inclusive of balloon, helium, ribbon and a washer tied to the end of the ribbon).
I also decorated the huge play pen borrowed from my sis with the helium balloons but strangely enough…I didn't snap any pictures of it! I must have been to busy!
The Pressies
Both Ashley and Aidan received lots and lots of pressies!
There are more which are not in the picture. Thank you for the pressies! You know who you are!:P
Aidan was not so interested in the pressies…he was more interested to tear the wrapping paper so that he could eat the paper!
The Food
…was catered.
The Parents?
K.N.A.C.K.E.R.E.D!
Overall – the party was great.