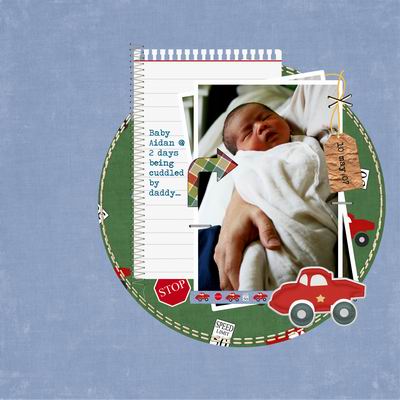 (Click here for layout and credits)
Time flies and it's almost a week since Baby Aidan was born……Hubs is back to work and what's left is my mom and maid to help me out with Aidan and Ashley. My dad will only be coming over at the end of this week. Aidan is drinking more and more by the day and we absolutely love the sound of him crying – not that we like him to cry all the time…but when the lil fella cries, he sounds helpless and his cries are so soft…I will video it and post it up (someday….Uploading videos to YouTube takes ages la..)
Urut (massage)
I engaged the services of Kak Yati to do the traditional Malay urut, Tungkuh and Bengkung for me this time round. So tonight was the first session. So as I am typing this, my abdomen is being bound tightly with the kain belacu (I used the long material as opposed to the modern corset one instead). On top of that, I am also wearing the velcro belt thingy to make the bengkung tighter. yea…..all in the vain of beauty!:)
Naughty Step Technique 
I lost my cool with Ashley the night before and I introduced the "Naughty Step" technique by Jo Frost. She wasn't behaving herself at the dinner table and kept standing on the dinner table chair (refused to sit in her own chair) and took the spoon and dipped it in every plate on the table. When she didn't get what she wanted, she'd whine and cried. There I was, so sick and tired of listening to her cries and I lost my cool. I raised my voice, spanked her on her buttocks and carried her to the bottom of the stairs which was at the corner of the house and asked her to sit there until finished crying and I left her there. She ran after me and I brought her back to her naughty corner and asked her to sit there until she finished crying and then only I'd come and get her. And so..the drama continued and she cried and cried and cried, face down on the floor by the bottom of the stairs for a good 5 minutes. My mom stood up a few times wanting to go to Ashley to console her but I forbade her to do so. Yes…I did feel so bad for doing this to Ashley but this lil missy needs to be disciplined or else she'd be a spoilt-brat of a monster in the making. When she stopped crying, I went to her. She hugged me…..
Mommy : The next time you don't listen and when you're naughty, Mommy/Daddy will bring you here to the naughty corner until you stop crying ok?
Ashley : Ok
Mommy : Mommy sayang Ashley ok?
Ashley : Ok
Mommy : Are you still going to be naughty?
Ashley : Yes (*slap head*)
Mommy : Do you sayang mommy? (Gotta check whether she still sayang me ma…since I was the one who punished her ..heheh)
Ashley : Yes
Mommy : Ok, now we go back to the dinner table. You hold mommy's hand ok?
Ashley : Ok (She'd usually want me to carry her instead)
Mommy : When we are there, you MUST sit on the chair and CANNOT stand up on the chair ok?
Ashley : Ok
And so I brought lil missy back to the dinner table and she was very well behaved then……
I did and still do feel guilty for losing my cool but the Naughty Step technique did work. Kudos to Jo Frost!
Anyhow thanks to all the advice on handling Ashley. I think we handled or rather..managed her rather well today. My mom took care of Aidan most of the time and Ashley was with me. As long as I am not with her and Aidan together, Ashley is fine…….She still loves her baby brother and always ask for him when she wakes up. It's only when I feed Aidan that she gets jeolous. Now Ashley refuses to hold her own bottle when she drinks her milk and she'd insist that I hold it for her….Anyhow, we get her involved in caring for Aidan and I'm sure the situation will improve over time….like most have said….it's a phase and it will pass. Yes..and we're all hanging in there…:)
P/S I'm a ghost blog reader now (will not be leaving any comments) – at least for this month or 2 while I am on maternity.. leave..:) ….so although I may not leave any footprints…I'd still know what you all are up to…..